Posted on
Wed, Mar 17, 2010 : 4 p.m.
St. Patrick's Day in downtown Ann Arbor: A liveblog by David Bardallis
By David Bardallis
5:15 a.m., All the Brews Fit to Pint World Headquarters Huh? What? Are there really people who get up at this indecent hour? Man, the things I do for my readers. And, soon, to my liver.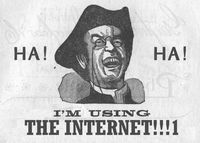 Er, anyway, welcome to St. Patrick's Day in Ann Arbor and my first-ever attempt at liveblogging anything. I sure hope this works! It's gonna be some kind of hybrid updated post and Twitter thing. All this science, I don't understand, so the wise and efficient folks of AnnArbor.com's Community Team will translate all my garbled transmissions for everyone. Huzzah!
Today's rules of the road:
There is no road. I'm strictly hoofing it around downtown Ann Arbor. I'll miss some great action in Ypsilanti and other reachable-by-car locales, but I'd rather the worst potential accident to befall me today be that my girlfriend has to pick my inebriated ass out of a rosebush. Insert obligatory reminder about being safe, responsible, and blah blah here.
I'm not Irish, though I had a grandmother who was born in Belfast to Scottish parents; raised in Bath, England; and married a Greek. You sort that one out.
I know next to nothing about Ireland except the stuff everyone knows — that it's full of potatoes, castles, and drunk people who like to fight. Jameson is the Catholic whiskey and Bushmill's is the Protestant whiskey, or the other way around, and if you order the wrong one, a drunk who eats potatoes and likes to fight will deck you. Luckily, I don't much care for whiskey and will stick primarily to beer.
As a drunk and a Catholic, I do love me some St. Patrick's Day, but this emphatically does not make me a Notre Dame fan.
OK, enough throat-clearing; time to get cleaned up and head out. First destination: Ashley's. Now where's that green pith helmet...?
5:17 a.m., All the Brews Fit to Pint World Headquarters P.S. If you're still trying to figure out what you're doing today, check my Local Beer Drinker's Guide to St. Patrick's Day. It's chock full of Irish wisdom. See you at the bar... unless you're stuck at work, sucker!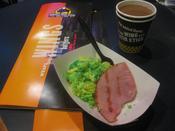 6:59 a.m., Line Outside Ashley's
My partner in beer, Kimberly, and I are in agreement that standing in the cold with 200 college students in a line that doesn't move is not the best use of our time. Down the block, Buffalo Wild Wings is just opening and there's all of two people waiting ahead of us. Free green eggs and ham and Bailey's and coffee time!
8:02 a.m., Buffalo Wild Wings Getting ready to head over to Arbor Brewing for some breakfast stout and, hopefully, to feel less… old.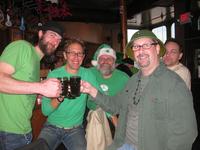 9:35 a.m., Arbor Brewing Co.
Arrived at Arbor Brewing and proceeded to get our stout on. At the insistence of owner Matt Greff, we added a shot of Bailey's to a glass of ABC's Espresso Love Breakfast Stout. Result: an explosion of awesome. Next up was the St. Pat's Strong Stout, 7% ABV with a nice, dry finish. Now eying the breakfast buffet. For $7, you can pile a plate full of eggs, bacon, hash browns, fruit, pancakes, blueberry scones, and biscuits and gravy, the better to lay down a base to absorb all that stout. Buffet runs to 11, then the Irish specials kick in. Will be moseying on before Old Man Greff gets me hammered on samples of the 80 billion different stouts here.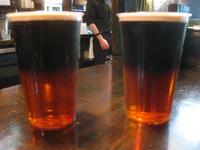 11:19 a.m., Conor O'Neill's
We're at Ann Arbor's only true, authentic, etc., etc. Irish pub on S. Main Street. Commenter PhillyCheeseSteak, whose daughter is scheduled to perform later as part of an Irish dance troupe, will be disappointed to learn that it is, in fact, a) smoky, b) loud, and c) full of drunks. We're sipping our black and tans by the front door while I try unsuccessfully to concentrate. At one point Kimberly thought I was yelling at her — which I was, but not because I'm angry, but because I can't hear myself talk. At any rate, $5 gets you in the door, a chance to win a trip to Ireland, and they give the Dude a wristband, so if you leave, you can come back without being dinged another fiver. I'm resisting the urge to show my age by yelling, "Turn that music down! And get off my lawn!" It wouldn't be so bad if they were playing the Pogues, but... they're not, damn them.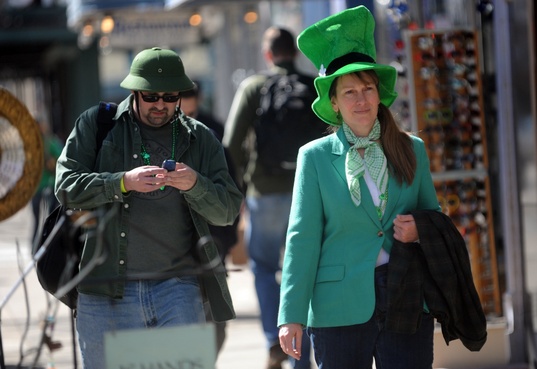 Melanie Maxwell | AnnArbor.com
11:48 a.m., Conor O'Neill's The kids have overrun my lawn. Hasn't anyone ever heard of using an inside voice? Where are my earplugs? U2? No Pogues? The napkins stuffed in Kimberly's ears are signaling me it's time to blow this O'popsicle stand.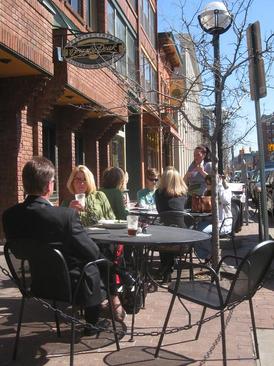 12:40 p.m., Grizzly Peak
Hoping for an outside table, but the folks who beat us here don't seem like they want to leave. Can't say as I blame them. Best St. Patrick's Day weather ever? Could be, could be.
12:50 p.m., Grizzly Peak Master brewer Duncan Williams is taking a break from brewing what he's calling an "Imperial Golding Ale" ("It's an English IPA-ish thing, about 7.5% ABV and a lot of hops") to chat with Kimberly, me, and Certified Cicerone Mike Turriff of Jolly Pumpkin.. Enjoying Duncan's County Cork Irish Stout. Love it, but it might be my last stout for a while. Too sunny and warm for a "winter" beer! (Stout lovers, leave hateful comments below.)
1:16 p.m., Grizzly Peak Waiting to feel drunk enough to fill out my NCAA bracket. Sobriety + filling out bracket = out in the first round.
1:42 p.m. Spotted on Main Street: Drunken Leprechaun pounding on a fairy door challenging occupant to a fight. Also spotted: Dude in a car suffering from holiday confusion hurling beads at a buxom lass dashing across the street.
2:30 p.m., Ashley's We've returned to the scene of this morning's frozen debacle and have gained entrance to the temple. For me, an Original Gravity 440 Pepper Smoker. For Kimberly, who recently opined, "It's hard work drinking this much," a glass of water. Hey, at least it's not green beer.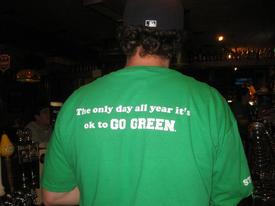 2:35 p.m., Ashley's
Speaking of green, at right is the shirt we could have gotten had we waited in line for two more hours this morning.
2:44 p.m., Ashley's First bar sleepers of the day spotted.
2:46 p.m., Ashley's Wait, they aren't exactly sleeping. She's half-sitting in his lap, head lolling, Dad, I think he's gonna pork her.
2:48 p.m., Ashley's He's not gonna pork her, Russ.
3:02 p.m., Ashley's We have a puker! This may be the sign from God that it's time to move on. Dominick's? Dominick's.
3:04 p.m., Ashley's Kimberly says, "They better not be thinking it was me." The puker was most certainly not Kimberly.
3:11 p.m., The Diag Seven years of college down the drain!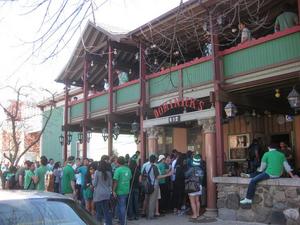 3:35 p.m., Dominick's
Dominick's: a bad idea. Looks like Mardi Gras in green. Leaving for saner pastures. (Kimberly: "The only difference between the college kids in this line and the line at Ashley's is eight hours of drinking.")
3:41 p.m., State Street Green beer and volleyball everywhere. It's gorgeous out here. If you're at work, you should leave.
4:27 p.m., AnnArbor.com Headquarters Taking a quick break at HQ before heading back out into St. Patrick's Day: The After Work Party. Dogs. Coffee. Water. Kimberly was right: Drinking this much is hard work.
4:35 p.m., AnnArbor.com Headquarters Still resting my Irish car bomb muscles.
5:41 p.m., Bar Louie No rest for the inebriated. We skipped to our Lou — Bar Louie that is. Bell's Double Cream Stout and Two-Hearted Ale in our glasses. Real Irish music: Bon O'Jovi.
6:00 p.m., Bar Louie Just realized we've passed the 12-hour mark! Not bad for a couple old codgers operating on about three hours of sleep between us. FEAR THE DETERMINED DRUNK.
6:05 p.m., Bar Louie Need to find a place to plug in the fading computer. (Who knew I would last longer than my computer?) Watch Twitter feed for a while as I attempt to fix this problem. Meanwhile: Lagunitas Hairy Eyeball Imperial Brown Ale!
6:07 p.m., Bar Louie Oh, and something to watch for. Manager Brandon Herriott announced $3 pints all day Wednesday, every Wednesday, beginning next Wednesday. Wednesday. This includes even all the high-octane rocket fuel stuff. Dude. OK, back when I find an outlet. Or just come on out — still some open tables!