Food & Drink:

Delicious breakfast casserole works for brunch or dinner

Posted on Thu, Jan 13, 2011 : 10:22 a.m.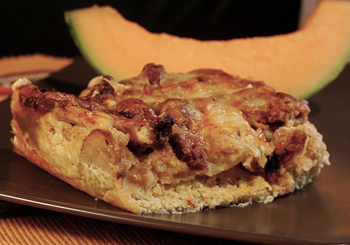 Jessica Webster | AnnArbor.com
I love to cook, but between two jobs and a third-grader, finding the time to plan and cook a family meal can be a challenge. Sundays are especially difficult, not just because the pressure to cook a delicious traditional Sunday Dinner is intense, but also because I am on the air at WEMU until 5 p.m., which either leaves me very little prep time or pushes dinner time back almost to bed time.
My favorite solution to this dilemma has been to go to what I like to call our "second dining room": Zingerman's Roadhouse. But since one of our resolutions this year is to be more responsible with our finances (sigh), I found myself sitting in the grocery store parking lot on Sunday night, desperately scanning through Epicurious.com recipes and looking for inspiration.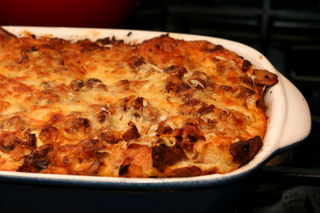 Jessica Webster | AnnArbor.com
As I sat there in the parking lot reading recipes on my phone and cursing myself for not planning better (yes, planning my meals further in advance will have to be next year's resolution), I suddenly remembered one of my favorite dishes we made in the Zingerman's Mail Order kitchen when I worked there for a season. We all gathered in the kitchen on Christmas Eve and cooked our favorite brunch recipes. Someone made a delicious breakfast casserole filled with vegetables, sausage and cheese. I've been making a variation on that casserole for special occasions ever since.
One of the things I love about a breakfast casserole is that it's a great way to use up stale bread, leftover vegetables and bits of cheese. I had almost everything I needed for this dish on hand. While I love the way Alpine cheese and eggs go together, you can use just about any kind of cheese you like. Experiment with different types of sausage or use bacon. Asparagus also works very well in this dish.
Most breakfast strata and casseroles call for preparing the dish the day before and giving the egg and milk mixture a chance to saturate the bread before baking it, but since I was prepping and baking the same night, I soaked the bread in cream (you could substitute half and half) while I cooked the sausage and vegetables.
Ingredients:
10 eggs, beaten
1/2 cup milk
1/2 teaspoon pepper
3/4 cup grated cheese (I used gruyere)
1/2 pound chorizo or other sausage
1/2 teaspoon olive oil
1/2 pound mushrooms, sliced
1/2 medium yellow onion, diced
1/2 yellow pepper, diced
2 cloves garlic minced
half a loaf of stale french bread, sliced
1 cup cream or half and half
salt, to taste
Directions

1. Preheat the oven to 350 degrees.
2. Line the bottom of a lightly greased 9x13 baking dish with sliced bread, and cover the bread with the cream or half and half. Set aside.
3. In a medium frying pan, cook the sausage for 10-12 minutes — or until cooked through — breaking it up with a wooden spoon as it cooks. Remove the sausage from the pan with a slotted spoon and set it on a paper towel-lined plate to absorb the rest of the grease, then spread it over the bread in the 9 x 13 pan.
4. Wipe the pan clean and return it to the stove. Cook the vegetables in olive oil until they have softened. Add the minced garlic for the last two minutes of cooking, and then turn the cooked vegetable mixture out into the 9x13 baking dish, spreading it over the bread and sauage.
5. Combine the eggs, milk and pepper, and pour into the baking dish. Top with the cheese and place in your preheated oven. Cook at 350 degrees for 50-60 minutes, or until
the casserole is golden brown and bubbly and a toothpick inserted in the center of the casserole comes out clean.