Posted on
Thu, Jun 14, 2012 : 3:09 p.m.
Free Depot Town Strawberry Showcase Saturday in Ypsilanti
By Jessica Webster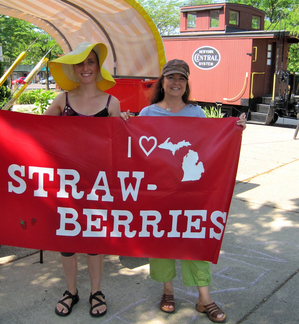 Courtesy photo
Strawberry lovers will be flocking to Ypsilanti on Saturday afternoon for a self-guided walking tour through the Depot Town area. Local business association Think Local First is holding the first annual Strawberry Showcase at four local businesses from 11 am until 2 pm.
The tour kicks off at the Depot Town Farmers Market, where participants can sample strawberry shortcake and pick up their official Strawberry Showcase map and "passport." The passport will be validated at each of the four participating local business stops, and then turned in for an opportunity to win prizes.
Other stops on the showcase are Harvest Kitchen (32 E. Cross St.), where people can sample strawberry salsa, Ann Arbor Tortilla Factory chips and other tasty treats from Locavorious; the Ypsilanti Food Co-op (312 River St.), offering strawberry cheesecake and Sandhill Crane Vineyards' Strawberry wine; and The Corner Brewery (720 Norris), whose popular Strawberry Blonde beer (as well as strawberry soda for the younger set) will be on offer.
Ingrid Ault, executive director of Think Local First, dreamed up the idea with Harvest Kitchen's Mary Wessel-Walker.
"I've always wanted to do something with strawberries," said Ault. "Everybody loves strawberries, and this is a way to celebrate them while introducing people to Depot Town and some of the Think Local First food-based businesses."