Posted on
Mon, Dec 5, 2011 : 1:49 p.m.
The Great Crock-Pot Experiment #1: Greek Lemon Chicken with Potatoes and Dill
By Peggy Lampman
Peggy Lampman | Contributor

Crock-Pot recipe
s must be the most abused recipe category on the web. Therefore, one of my goals this winter is to sift through the muck and pluck out the tastiest recipes for this time-saving kitchen appliance I can locate.
Problem is, some of the best looking recipes are fairly complex. The idea when using a slow cooker is to save time, right? Therefore another bit of criteria I will insist upon is the recipe is relatively simple to make. There may be five or ten minutes of labor in the final cooking stages — it's got to taste good — but that will be about it.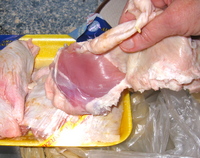 I'm off to a good start with the following recipe I found on
Eating Well
. I did make several changes to the recipe. If, for example, I'd followed it to the letter, the sauce would have been quite thin — far too thin to provide the sustenance I need to get through this holiday season. So I added cornstarch, which seemed to do the trick. Additionally, I upped the wine, garlic, and used bone-in thighs instead of boneless.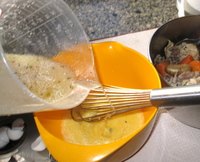 The bones impart a lot of flavor and were easy to dispose of prior to serving. I did, however, remove the fatty skin before cooking. I couldn't remove every bit of fat, but I didn't use any butter or oil and that extra bit of chicken fat added a lot of flavor.
This was particularly delicious comfort food, and makes great leftovers.I served the dish over rice to sop every last bit of that lemony sauce, but the potatoes may be plenty enough starch for you.
(Equipment Requirements: I used a 6 1/2 quart eLume slow cooker. I purchased the slow cooker two years ago at Bed, Bath and Beyond. At the time, it cost $79 using a 20-percent-off coupon.)
Yield: 4-6 servings
Active Time: 30 minutes
Simmer Time: approx. 5 hours total
Ingredients:
1 pound carrots, cut into 1 1/4-inch pieces
1 pound baby or fingerling potatoes (left whole or cut in half)
3 pounds bone-in chicken thighs, as much skin removed as possible
1 1/2 tablespoons minced garlic
1 1/2 cups chicken stock
2/3 cup dry white wine
1 (13-15-ounce can) artichoke hearts, rinsed and quartered if whole
1 large egg
2 large egg yolks
1/3 cup lemon juice
1 tablespoon corn starch
1/3 cup chopped fresh dill
Directions
1. Spread carrots and potatoes over the bottom of a 4-6 quart Crock-Pot. Season chicken with kosher salt and freshly ground pepper and arrange on top of the vegetables.
2. Combine garlic with stock and wine and pour stock mixture over chicken and vegetables. Cover and cook on low heat until the chicken is cooked through and vegetables are tender, 4 to 4 1/2 hours.
3. Toward the end of cooking time, whisk egg, egg yolks, lemon juice and corn starch in a medium bowl; reserve. When chicken is tender, transfer the chicken, discarding the bones, and vegetables to a serving bowl using a slotted spoon. Toss with artichoke hearts. Cover and keep warm. Turn heat on Crock-Pot to high.
4. Ladle 1/2 cup of the cooking liquid into the cornstarch-egg mixture. Whisk until smooth. Whisk the egg mixture into the remaining cooking liquid in the slow cooker. Cover and cook, whisking occasionally until slightly thickened,15 to 20 minutes.
5. Add chicken and vegetables back to pot and continue cooking until heated through. Stir in dill and season to taste with additional kosher salt and freshly ground pepper, if desired.

My new web site (packed with holiday recipes) has recently been launched. (www.dinnerFeed.com)! I'm a real-time food writer and photographer posting daily feeds on my website and in the Food & Drink section of Annarbor.com. You may also e-mail me at peggy@dinnerfeed.com.