Posted on
Mon, Dec 12, 2011 : 4:31 a.m.
Rabbit & Pork Belly Terrine needs time to develop its flavor profile
By Peggy Lampman
Peggy Lampman | Contributor

The new Holiday Cookbook answers all of your cooking needs. Strapped for time? Check out the well-tested Super-Simple section.
It may be Monday, but I'm thinking of two parties coming up at week's end; I've promised to bring appetizers to both of them. These are serious food loving folks; the kind of people who chew their food slowly, with intensity, deliberating if the subtle notes of juniper complement the tannins in the wine. I'm sweating at my hairline. What to make?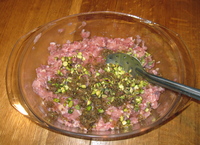 A friend I see at the gym, Reynold Lowe (the owner of the inimitable antique furniture and lighting store, Materials Unlimited), provided the answer. We regularly discuss culinary delicacies as we work out, and he rhapsodized over the Rabbit Terrine his family enjoyed on Thanksgiving.
That's it — a lovely terrine — I haven't made one in years; the perfect complement to elegant wines. Alas, I wasn't able to procure his recipe prior to my having cobbled and ordered ingredients for another, but it was similar in spirit.
Don't let terrines fool you. Really, they're just meat loaves, kicked up several notches. My recipe was inspired by something that looked fairly simple to make, but had ingredients I imagined would produce something quite grand. It's from Miles Collins, a British chef, but the "recipe" makes a lot of assumptions about the cook's culinary ability. I think Chef would approve my more exact interpretation, especially if he sampled it with the Roasted Pomegranate Cippolines and Grapes. (The recipes in his food blog, by the way, sound marvelous.)
I purchased the rabbit and pork belly from Sparrow Meats in Kerrytown. I ordered it late last week giving them instructions to grind the meat for classic French-styled country paté. (They get these types of requests frequently.) It's hard to find dried juniper berries; but not so if you're in Kerrytown. The Spice Merchants (upstairs from Sparrow Meats) sells them crushed and whole, as well as any other spices your cupboard may lack. Everyday Wines stocks 1/2 bottles of Madeira.
Experience has taught me that terrines need two solid days sitting in the refrigerator to develop their flavor profile. They hold up a good week or so after that. So if I make the Rabbit Terrine today, I can make the crostini tomorrow (those keep a week in a tin, too) and the Roasted Ciopollini Onion and Grapes with Pomegranate Syrup on Wednesday (recipe below), which will improve with age. With these three items at the ready, I can put together elegant appetizers through the weekend in minutes.
Since my appetizer remains constant through the week, hopefully the guest lists will be different at the parties I attend. Though I wouldn't be adverse to savoring this lovely treat daily. As long as I eat oatmeal every morning and hit the gym, I'm good.
Click
here
for a slide-show on preparing this terrine.
Note: I will blog about the Roasted Cioppoline & Grapes with Pomegranate Molasses on Tuesday and the crostini on Wednesday.
Yield: 1 terrine
Active Time: 45 minutes
Bake Time: 90 minutes
Ingredients
1/2 cup finely chopped onion (1 small onion)
2 teaspoons minced garlic
1/2 teaspoon dried thyme
1/2 teaspoon ground juniper berries
1/2 teaspoon ground fennel seeds
1/2 cup Madeira
2- 2 1/2 pounds ground rabbit (include livers) and pork belly mixture*
1/4-1/2 tablespoon kosher salt
1/4-1/2 tablespoon ground pepper
1/3 cup (shelled) coarsely chopped pistachios
3 slices bacon
Terrine
Parchment paper
*A reputable charcuterie or butcher can provide this for you (I purchased my mixture from Bob Sparrow in Kerrytown, giving him advance notice). I requested two boned rabbits, their livers, and a couple of slabs of pork belly be put into the mincer. This worked out to be about 2 1/4 pounds of total meat.
Directions
1. Preheat oven to 350 degrees.
2. Place onion, garlic, thyme, juniper berries, fennel and Madiera in a heavy bottomed pan. Bring to a boil and cook until Madiera has been absorbed. Let cool.
3. Sprinkle 1/4 tablespoon of kosher salt and 1/4 tablespoon pepper over rabbit and thoroughly combine. Fry a pinch in a sauté pan and taste. Add additional salt and pepper to mixture if desired. (I used 1/2 tablespoon of each.)
4. Thoroughly combine onion mixture with meat mixture and pistachios; make sure pistachios are well-distributed into the meat. Press meat mixture into a lightly oiled terrine. Place bacon lengthwise over meat mixture. Cut parchment to fit over terrine and press into mixture. Wrap tightly in foil and place in another baking dish, larger than the terrine, which is filled 3/4 with hot water.
5. Bake on center rack of oven until it reaches an internal temperature of 160-170 degrees, about 80-90 minutes. (Temping unfortunately causes a bit of flavorful juices to escape. If you're confident your oven temperature is accurate, bake the terrine 80-85 minutes and you should be in fine shape.)
6. When cool enough to handle, remove foil and pour off excess fat. (The flavorful juices may be used later for a sauce or soup.) Recover terrine with foil and weight terrine down with a plate, cans or weights. Refrigerate two days for flavors to combine.

My new web site (packed with holiday recipes) has recently been launched. (www.dinnerFeed.com)! I'm a real-time food writer and photographer posting daily feeds on my website and in the Food & Drink section of Annarbor.com. You may also e-mail me at peggy@dinnerfeed.com.