Posted on
Sun, Nov 6, 2011 : 6:23 a.m.
Ditch the dinner rolls and do easy fennel biscuits
By AnnArbor.com Staff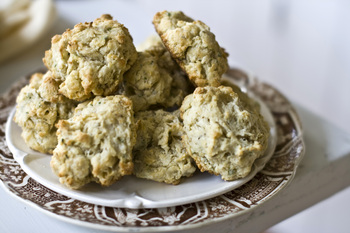 AP Photo | Matthew Mead
ALISON LADMAN, For The Associated Press
Dinner rolls are dandy, but for ease biscuits are best.
We created this simple biscuit recipe to let the flavors of crushed fennel seeds and fresh chives shine. They are delicious warm from the oven and are perfect for sopping up excess gravy and mashed potatoes.
They also can be prepped ahead of time. Prepare the recipe as directed, arranging the mounds of dough on the prepared baking sheet. Cover and refrigerate until ready to bake. This can be done up to a day in advance. When ready to bake, the biscuits can go directly from the refrigerator into the oven.
The mounds of dough also can be frozen, then stored in a zip-close bag. When ready to bake, arrange on a baking sheet and bake for 2 to 3 minutes longer than directed in the recipe.
FENNEL SEED AND CHIVE BISCUITS
Start to finish: 30 minutes
Makes 18 biscuits
2 tablespoons fennel seeds
4 cups all-purpose flour
2 tablespoons baking powder
1 teaspoon salt
1 cup (2 sticks) unsalted butter, cold, cut into small cubes
1 3/4 cups half-and-half, chilled
1/4 cup chopped fresh chives
Heat the oven to 400 F. Coat a large baking sheet with cooking spray.
Using a mortar and pestle or spice grinder, lightly crush the fennel seeds.
In a large bowl, mix together the fennel seeds, flour, baking powder and salt. Toss in the butter cubes and press with your fingers, flattening each cube of butter into the flour mixture. Stir in the half-and-half and chives just until everything is distributed and moistened.
Scoop onto the prepared baking sheet in 1/4 cup mounds. Bake for 18 to 20 minutes, or until golden brown and cooked through.
Nutrition information per serving (values are rounded to the nearest whole number): 230 calories; 120 calories from fat (52 percent of total calories); 13 g fat (8 g saturated; 0 g trans fats); 35 mg cholesterol; 23 g carbohydrate; 4 g protein; 1 g fiber; 300 mg sodium.