Posted on
Tue, May 8, 2012 : noon
Dixboro and Cobblestone: Ann Arbor's newest farmers' markets starting up soon
By Kim Bayer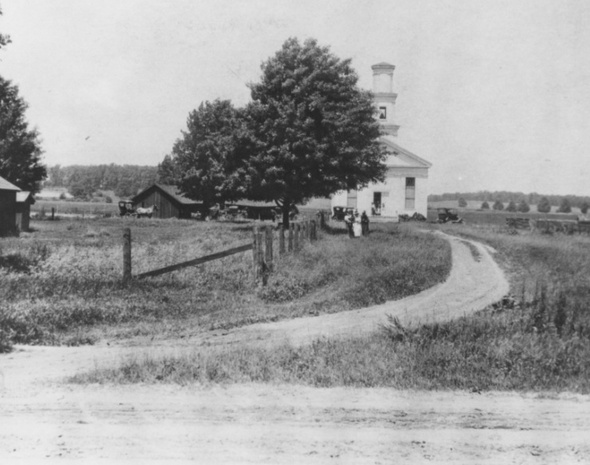 Photo | Dixboro Farmers' Market Website
Have you heard about the new Dixboro Farmers' Market on Ann Arbor's northeast side, and the Cobblestone Farmers' Market on the south side? With these two new markets starting up soon, Ann Arbor is getting close to having a farmers' market option every day of the week.
The Friday afternoon Dixboro Farmers' Market (opening May 18 from 2:30-7:30 p.m.) and Tuesday afternoon Cobblestone Farmers' Market (opening June 19 from 4-7 p.m.) are joining the ranks of some smaller start-up markets, like the Friday Washtenaw Farmers' Market and the Wednesday St. Joe Farmers' Market that focus on particular populations with their own personalities.
The Cobblestone Farmers' Market, which will be located in Buhr Park along the entrance drive at Packard, will be close enough to hear the roosters from the historic Cobblestone Farm next door, whose goats, chickens and heirloom gardens help re-create the agricultural past of the mid-1800s.
The "large population of sports participants" who use Buhr Park, as well as surrounding neighborhood residents, are the potential shoppers that market organizers hope to reach. Jackie Young, one of the Cobblestone organizers, says, "Currently, all local farmers' markets are out of walking distance for the south side of Ann Arbor. It would benefit residents in this area to have an easily accessible market."
The market organizers observe that their "effort is in line with the city of Ann Arbor's sustainability goals in the area of increasing food security through increasing local food production and access." In fact, one thing that will make this market unique is that they "believe it will be the only market to sell only organically grown produce," although "vendors who are not certified organic may submit a statement about their compliance to organic standards."
Shawn Severance, one of the Cobblestone market organizers, notes "It seems to me that we are seeing an expansion in the number of local small-scale vegetable farmers. This market will most likely be populated by these new farmers who may not be able to get a spot at the downtown market. Farmers will benefit by expanding their customer base through this new venue, and customers will benefit by incorporating fresh, organic, local produce into their kitchens on a more regular basis."
Dixboro Farmers' Market organizers say: "The absolute need for healthy local food in Northeast Ann Arbor and North Ypsilanti was the paramount factor for the creation of our market." Taking place from 2:30-7:30 p.m. on Friday evenings, market organizers hope to capture Plymouth Road's evening commuters with the ambiance of the "historic piece of property in the center of the village surrounded by quaint businesses and a historic schoolhouse" in Dixboro. They imagine shoppers conversing with vendors as they purchase items to enjoy for an impromptu picnic with family on the village green nearby.
Market managers Michelle Hartmann and Jason Gold say, "Our vendors are chosen based off the quality of their items and their commitment to the local community. While we value arts and crafts, these items will only be available on special event days. Our focus is on food, and food shall be prominent. Family, friends and food — the sweetest things in life are easy to find in Dixboro." The market is seeking additional vendors, and community members are encouraged to volunteer and donate.
Severance says, "The Ann Arbor area seems ripe for expansion of farmers markets — more and more people don't want their food to come from 1,500 miles away. But to be a viable alternative for many, shopping at a farmers market has to fit in with people's existing routines. Th(ese) location(s) bring a market to people who might not be able to get downtown very often."
Cobblestone Farmers' Market

Buhr Park

2751 Packard Road, Ann Arbor
Tuesdays, June 19 through Nov. 23, from 4-7 p.m.
For more information contact: Jeannine Palms
Phone: 734-971-5870
Email: jeannine@wetmeadow.org
Dixboro Farmers' Market

5221 Church Road, Ann Arbor
Fridays (starting May 18) - 2:30 to 7:30 p.m.
For more information contact: Michelle Hartmann or Jason Gold
Phone: 734-707-1607
Email: info@DixboroFarmersMarket.org

Kim Bayer is a freelance writer and culinary researcher. Email her at kimbayer at gmail dot com.