Posted on
Fri, May 27, 2011 : 5:59 a.m.
Do you eat like a liberal or a conservative?
By Jessica Webster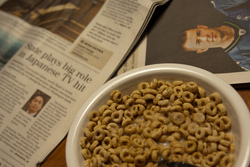 Photo by Flickr user redcargurl
As if our current political climate isn't divisive enough,
according to this post from Mashable,
data from
Hunch.com
shows that people who identify as "liberal" or "conservative" also have differing tastes when it comes to food choices.
After running a survey of their 2,000 members, the folks at Hunch came to some interesting conclusions.
For instance, conservatives are 20 percent more likely to skip breakfast and 9 percent more likely to prefer soft tacos, while liberals are 57 percent more likely to drink wine with dinner at home and 28 percent more likely to eat fresh fruit daily.
You can view the complete infographic on Mashable.