Posted on
Tue, Nov 1, 2011 : 6 a.m.
Do you need to stalk wild asparagus?
By Linda Diane Feldt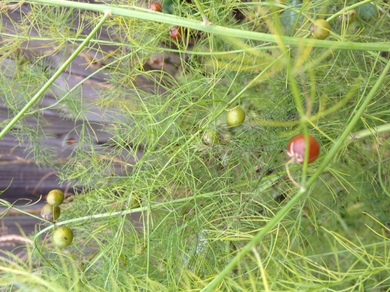 Photo by Tom Bowes
In 1962, Euell Gibbons wrote "Stalking the Wild Asparagus" and made that phrase a part of folklore. Nearly 50 years later his writings may not be as well known, (and the phrase is drawing blank stares from younger people I teach), but it turns out to still be a great idea for wildcrafters. Yes, if you can stalk the wild asparagus, you will be rewarded.
How do you do this and why?
Asparagus is a great May treat. The spears are snapped at the base and can be eaten raw, steamed, stir-fried. My favorite method is roasted with a bit of olive oil, salt and garlic. Asparagus can be eaten hot or warm, and also enjoyed cold. While they can be blanched and frozen for later use, the best asparagus I've ever had was eaten freshly picked by a road-side while on a bike ride. A sharp eye can find the spears popping up in the spring. Even better is to find the dying foliage now, make a note of the location and return for your reward in May.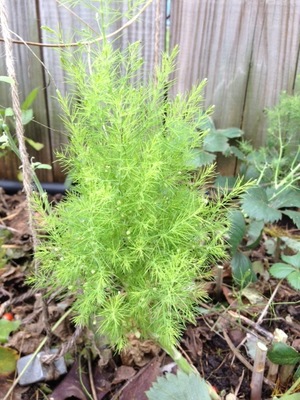 Photo by Tom Bowes
That's pretty much the stalking process. Look for the foliage, as shown in these photos. Right now, you'll see the red and green "berries" growing on the find greens. Asparagus is a very long-lived plant, and once you know a patch, you can often harvest from it for decades. I've been allowed to pick from some friend's wild patches that were over 40 years old.
Biking and walking are the best methods to find a wild patch, but I've spotted some by car, especially right now when the greenery is mostly yellow and stands out better. And they can be anywhere! Locations near old farms, along the road and abandoned house foundations are a few places to look.
Wild asparagus stands can be like mushroom locations. People aren't likely to share their secret spots. Being secretive is part of the art of stalking. Keep a lookout, and you may find your own treasure trove that you can return to again and again for some legendary wild spears that would make Euell Gibbons proud.
Linda Diane Feldt is a local Holistic Health Practitioner, teacher and writer. You can follow her on twitter, visit her new website, or contact her directly at writing@lindadianefeldt.com. Go to her writing website for her three new publications, each serialized subscriptions, including Wildcrafting Recipes that will begin in January.