Peggy Lampman's Tuesday dinnerFeed
recipe:

Dragon's Milk Ice Cream Floats

Posted on Tue, Jun 21, 2011 : 4:50 a.m.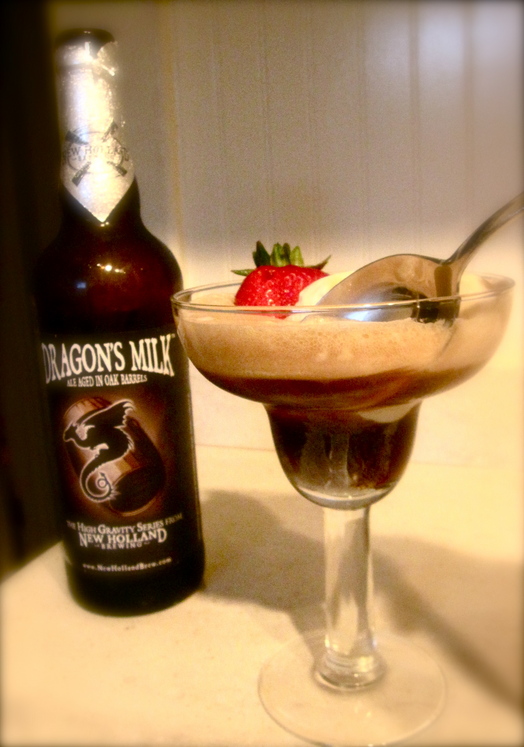 Peggy Lampman | Contributor

Peggy Lampman's Tuesday dinnerFeed
My husband and I were recently in Grand Rapids and had dinner at a phenomenally original restaurant, Reserve. As I debated between the hogs cheeks and salmon with chicken liver sauce, our dining companions recommended we accompany our meal, not with the expected bottle of wine, but with a bottle of Dragon's Milk. The waitress concurred and said it would be marvelous with the hogs cheeks and field peas I planned to order (raised in Alabama, this is comfort food for me).
It's an ale constructed at New Holland Brewing in Holland, Mich. The back label describes it as "A barrel-aged stout with roasty malt character intermingled with deep vanilla tones, all dancing in an oak bath." It recommends being paired with red meat, smoked foods, balsamic, rich cheese and dark chocolate.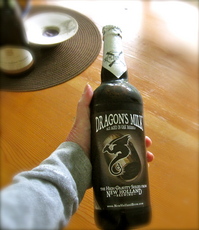 Our waitress suggested we serve Dragon's Milk with a scoop of ice cream — like a root beer float. I did just that and served it to friend Rich Carreno, currently the President of Morrisville State College in New York. He said, "The only thing that would make this dessert better would be serving it with Sleeping Bear Dunes Ice Cream."
The man, a fan of the Great Lakes, plans to retire one of these years in Michigan. Who wouldn't? Especially with a mug of Dragon's Milk to ease the pain of aging.
Another friend said it wasn't her "cup of tea." Unlike the two of us, she didn't like the slight bitter flavor of the rich brew paired with the ice cream. For me, a Dragon's Milk float is like savoring life; the bitter and the sweet.
P. S. The floats look really sharp served in margarita or martini glasses.
(I asked David Bardallis on the comment section of his AnnArbor.com blog, All The Beers Fit To Pint, if it was available in Ann Arbor. He informed Dragon's Milk may be procured at most places that sell good beer in town. I just found it at The People's Coop, which carries a lovely assortment of the finest Michigan brews. My husband pointed out that Hudsonville Ice Cream is also made in Michigan. Holland, to be precise. The same area where Dragon's Milk is made.)
Ingredients:
1 (1 pint, 6-ounce) bottle Dragon's Milk Ale
6 large scoops vanilla ice cream
6 strawberries, each slliced into a fan for a garnish (optional)
Directions
Mound scoops of vanilla ice cream in bowls or glasses. Carefully divide and pour Dragon's Milk over ice cream. (Pour slowly off to the lip of the glass. Dragon's Milk is quite foamy.) Garnish with strawberry fans, if using, and serve.
Looking for a specific recipe? Click here for dinnerFeed's recipe search engine; type the recipe or ingredient into the search box. I am a real-time food writer and photographer posting daily feeds on my website and in the Food & Drink section of Annarbor.com. You may also e-mail me at peggy@dinnerfeed.com.