Posted on
Mon, Jun 11, 2012 : 11 a.m.
Drambuie butterscotch sauce adds a touch of sophistication to plain ice cream
By Mary Bilyeu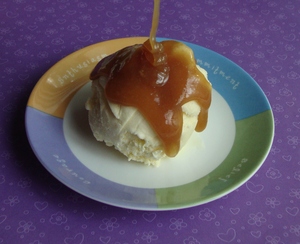 Mary Bilyeu | Contributor
I made a simple but rich sauce recently, because I wanted something more enticing than just plain ol' ice cream. Since it wasn't accompanying anything — cake, pie, etc. — the ice cream needed a little bit of dressing up.
I didn't have any chocolate in the house, for some inconceivable reason; but I was in the mood for a change from that routine anyway. Butterscotch was calling to me .. fairly loudly, too. I had brown sugar, butter, vanilla and half-and-half. I even had corn syrup — not an ingredient I want in my peanut butter or any other of the myriad foods it sneaks into, but one which contributes to the right consistency in this recipe. I was all set.
And then I had a flash of brilliance: Drambuie, a liqueur made with whiskey, honey, and spices. A little splash of Drambuie would make this such a sophisticated treat!
Put the ingredients in a saucepan, boil, chill — that's it! So this sauce is ideal if you get short notice about company coming over, or if you just have a craving for something a little special.
This sauce didn't even need the ice cream... just a spoon is all that's required.
Drambuie Butterscotch Sauce
2/3 cup brown sugar
1/3 cup light corn syrup
1/4 cup Drambuie
2 tablespoons butter
1 teaspoon vanilla
1/4 cup half-and-half
Bring sugar, corn syrup, and Drambuie to a boil over medium-high heat in a small saucepan; stir constantly and cook for 5 minutes; mixture will foam up. Remove from heat, then stir in butter and vanilla. Stir in half-and-half; mixture will clump a bit, then everything will combine and smooth out.
Place into a jar, cover, and refrigerate until cold; the sauce will thicken. Can be warmed up slightly to serve over ice cream, cake, fruit ... whatever strikes your fancy.
Makes about 1 cup.

Mary Bilyeu
writes about her adventures in the kitchen - making dinner, celebrating holidays, entering cooking contests ... whatever strikes her fancy. She is also on a mission to find great deals for her Frugal Floozie Friday posts, seeking fabulous food at restaurants on the limited budget of only $5 per person. Feel free to email her with questions or comments or suggestions:
yentamary@gmail.com
.
You should visit Mary's blog — Food Floozie — on which she enthuses and effuses over all things food-related. And be sure to look for her monthly articles about holiday foods and traditions in the Washtenaw Jewish News.
The phrase "You Should Only Be Happy" (written in Hebrew on the stone pictured in this post) comes from Deuteronomy 16:15 and is a wish for all her readers - when you come to visit here, may you always be happy.