Posted on
Thu, Dec 17, 2009 : 10:02 a.m.
Dreaming of a tight Christmas: All aboard the Santarchy pub crawl bus
By David Bardallis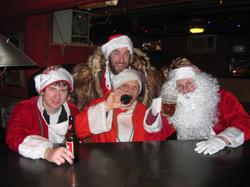 David Bardallis | Contributor
Lots of people
talk
about Christmas, but few ever
do
anything about it.
Until now, that is. This Saturday, Dec. 19, at least several dozen Santa-clad folks from Ann Arbor will step up—onto a bus bound for downtown Detroit to join hundreds of other Santa Clauses for the 2009 edition of Santarchy, a holiday pub crawl for those who are (or soon will be) full of Christmas beer cheer.
From its modest mid-1990s beginnings in San Francisco, Santarchy has grown into a worldwide phenomenon, with throngs of people dressed in cheap (and not-so-cheap) Santa (and not-so-Santa) suits descending on bars everywhere from San Diego to Stockholm, from Denver to Dublin, from Pittsbrugh to Paris. Detroit's own version began in 1999 and has grown exponentially since then. (For those keeping score, this 2004 Metro Times article chronicles how Santarchy came to the D.)
Last year (or maybe the year before that; the memory fails), the jolly folks organizing Detroit Santarchy began sending a bus out to Ann Arbor to give Tree Town Santas a way to participate without suffering guilt pangs over driving individually and increasing their evil carbon footprint. Or something.
At this point you're reading this and thinking one of three things: "This sounds really dumb," "Hahaha, those crazy kids," or "WHY HAVEN'T I HEARD OF THIS BEFORE OH MY GOD WHERE CAN I GET A SANTA SUIT BY SATURDAY?!"
If the third thing, by all means come to the 8 Ball Saloon, 208 S. First, at 6:30pm on Saturday in appropriate attire and with a $20 bill (to cover your evening's bus privileges) and become part of what makes America great.
Important Tips for Beginners
Some things to keep in mind if you do hop aboard the Santarchy Express:
You probably don't want to invest too much in your Santa (or Mrs. Claus or elf or reindeer) suit. Your individual good taste, no matter how impeccable, cannot possibly class this event up, and you'll just be upset when you feel the need to find a way to clean the spilled beer, cigarette smoke, dirty snow, and dried vomit off your expensive, delicate costume without destroying it in the process. Remember: Less is more!

David Bardallis | Contributor

You may want to bring some beer with you for the bus ride. It's 45 minutes or so to downtown Detroit. And when I say beer, I mean cheap, low-alcohol swill. Do not under any circumstances bring whiskey or other high-octane beverages to consume on the bus ride. This is a marathon, not a sprint, rookie.
Don't expect to enjoy the best in Michigan craft beer. The stops consist mostly of Detroit dive bars. Draw your own conclusions. There may be happy exceptions, of course, but this is one of the few times your correspondent believes it is socially acceptable to drink cheap, crappy, mass-produced beer. (The other times: camping and bowling.)
Insert paternalistic warning about enjoying things responsibly here. Actually, you're an adult. You'll figure it out, or you'll face the consequences. You don't need me or some obnoxious Ad Council drivel to nag or threaten you. (Besides, how hard is it to navigate a bus ride to and from Detroit?)
So to recap: Saturday. You. Santa suit. 8 Ball. 6:30. $20. Six-pack of PBR. See you there.
If you're Santa enough.
David Bardallis is a freelance writer and editor, blogger, bon vivant, and man about town. Visit his Web site, DavidBardallis.com, to engage his services or read his latest. Email your beer-related thoughts to annarborbeer@gmail.com or follow @dbardallis on Twitter.