Posted on
Mon, May 2, 2011 : 3 a.m.
Detroit's Catherine Ferguson Academy Is Worth Saving
By Kim Bayer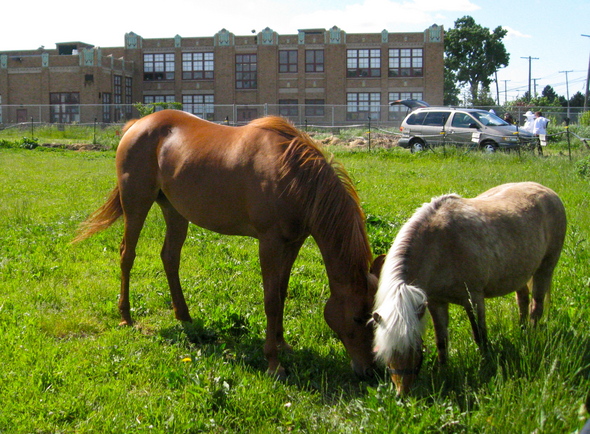 Photograph | Amanda Tsang
Driving downtown Detroit's wide avenues on the weekend is pleasant; the few cars on the road and numerous available parking spots make navigating easy peasy, lemon squeezy. It's ironic that a driving tour is still the best way to see the city that has been in part ruined by monomaniacal industrialization based around the automobile. Yet in addition to the desecration and despair in the city, Detroit is also becoming a model for renewal around more human priorities - and those efforts are only partly visible through a car window.
An example of hope and innovation is Detroit's Catherine Ferguson Academy (CFA), a high school for approximately 300 pregnant teens and young mothers. Although currently threatened with closure, CFA's successful program includes an urban farm complete with animals and beehives, and focuses on life skills as well as academics in order to prepare students for success in the spectrum of challenges they face.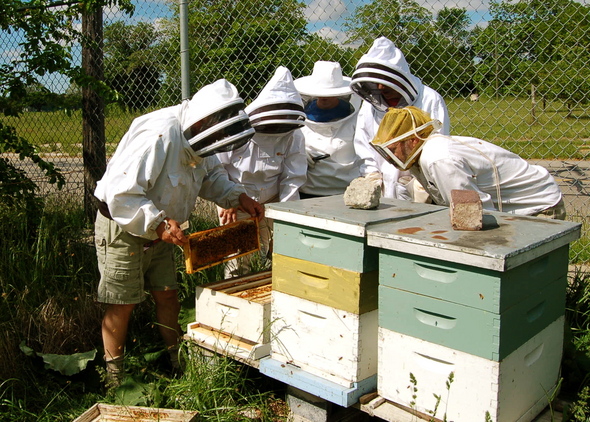 Photograph | Amanda Tsang
With onsite daycare and the expectation that the young women will become highly functioning members of society, over 90% of CFA students do graduate. Named for a former slave who advanced education among her peers, the subject of numerous articles, winner of awards, and held up as a model nationally, Rachel Maddow said recently that Catherine Ferguson Academy "is one of the only places like it in the country. Your life isn't over because you are pregnant. There is still school for you....One of the requirements for graduation at Catherine Ferguson is you must get accepted to a college. Principal Andrews and her staff will hunt down a college for you to go to, and money for you to go there if you graduate."
A school like Catherine Ferguson Academy has the potential to improve the lives of at least 2 generations of Michigan residents. But Detroit Emergency Financial Manager Robert Bobb has recently announced that CFA is one of the schools he plans to close in his effort to reduce budget deficits and increase class sizes to 60 students.
It seems like a short term savings focused on the wrong measure of value. Consider that CFA's students are among the most vulnerable of our citizens - prey for hunger, homelessness, prostitution, crime, drug addiction, abuse. How much more do the repercussions of those ills cost us as a society than if these young mothers become nurses or accountants or teachers? Factoring in their children who are vulnerable to the same challenges will more than double the societal cost of failing to bridge the gap to a better future.
The students at CFA are fighting to keep their school open. And there is a CFA Petition to keep the school open. On Tuesday May 3rd, there is a public hearing with Robert Bobb. CFA supporters from Grown in Detroit write that "The school staff, students, and alumni are planning to walk from CFA at 4:15 to Frederick Douglass Academy. Please join them if you can. They will be carrying signs- bring one for yourself if you can (small signs might be good - then there's a chance of taking them in and holding them during the presentation)."
There's something worth fighting for here. It makes me wonder what could happen if every Michigan resident would pull for the Detroit that's rising from its industrial ashes, re-connecting with its agricultural past, building on strengths of diversity and caring for the most vulnerable among us. What could happen if we refused to accept that closing schools and huge class sizes are viable options in the city? What would it look like to refuse societal complicity that poverty is an acceptable future for some, when auto and gas companies continue to reap record-breaking profits?
Wendell Berry writes "what can turn us from this deserted future, back into the sphere of our being, the great dance that joins us to our home, to each other and to other creatures....I think it is love...particular love for particular things, places, creatures and people."
In Michigan, Detroit is our particular place and its people, the students of Catherine Ferguson Academy, are our particular people.
FILM SCREENING THIS WEEK - Learn more about Catherine Ferguson Academy
Transition Ypsilanti is hosting a screening of "Grown in Detroit," an award winning documentary about Catherine Ferguson Academy.
When: Thursday, May 5, 2011 7:30-10:30pm
Where: SPARK East, 215 W Michigan Ave, Ypsilanti, MI
The film's creators say: "Grown in Detroit features urban organic farming efforts organized by the Catherine Ferguson Academy, a public school of 300, mainly African American, pregnant and parenting teenagers. In Detroit alone, there are more than 3,000 pregnant teenagers who drop out of high school each year, nationwide more than 500,000.
The passionate educators at the Catherine Ferguson Academy in Detroit are working to make a better future for the young women by using their natural resources. The school is one of only three like it in the United States. As part of the curriculum, pregnant teens are taught agricultural skills at the farm next to the school. The young mothers, often still children themselves, learn through organic farming to become more independent and knowledgeable about the importance of nutritious foods. Many of the teens initially dislike farm work but the aversion disappears as they see their crops growing and being sold for profit."
NOTE: Wheelhouse Detroit's Urban Agriculture Tours that stop at Detroit's historic Eastern Market, and at some of its more than 800 community gardens and urban farms. I hope that tour will include the living laboratory of the urban farm at Catherine Ferguson Academy.
Kim Bayer is a freelance writer and culinary research. Email her: kimbayer at gmail dot com