Beer Tracker
Food & Drink:

Dubbel down with a Maudite

Posted on Sat, Dec 17, 2011 : 6 a.m.
The recent popularity of craft beer has stirred the nation into a drinkers' renaissance, a rebirth of flavor, richness and discovery.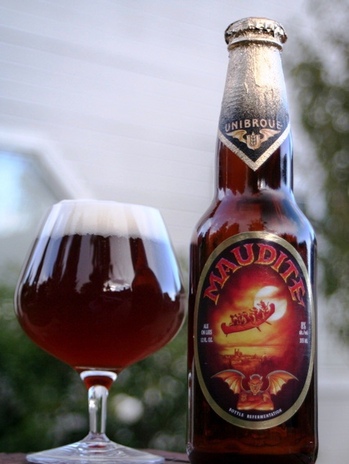 Tasting Notes
Beer:
Maudite
Brewery:
Unibroue
Origin:
Quebec, Canada
Style:
Dubbel Ale
ABV:
8 percent
Glassware:
Snifter, Goblet or Chalice
Description:
A muted rust color pour fills the air with traces of plum, raisin and toffee. On the tongue, dark fruits are backed by bready malt, and hints of alcohol warm the mouth. Cloves vanilla and nutmeg invigorate the taste buds while refreshing carbonation washes the palate upon exit. A layer of fruit and spice linger in the mouth which adds definition with each repetition. Truly a world-class sipper from north of the boarder.
Conclusion:
A flying canoe of French Canadians is a stretch, but legends be "damned"; this Dubble is worth the ride.
Where to Purchase
The Wine Seller, 2721 Plymouth Road, Ann Arbor - 750 ml for $7.99
Plum Market, 375 N. Maple Road, Ann Arbor - 750 ml for $7.95
Main Street Party Store, 201 N. Main, Ann Arbor - 750 ml for $8.49
As with most revolutions, the explosion has brought with it mind-numbing choices. Navigating the aisles at the local market can be a daunting task when the weekly beer budget is on the line.
Appreciation for craft beer is a sudsy journey which finds many toiling in the domain of specialty ales. Dubbel or Double Ales have gained much popularity in recent years. Many housed in 750-ml designer bottles, these are often the jewels of the beer aisle.
But "dubbel" what? In a word, malt. The brewing process for a dubbel calls for twice the malt used in regular brewing.
This increase in malt delivers higher alcohol content, due to the yeast feeding on the sugar in the malt. More malt equals more feeding…equals more fermentation… equals more alcohol!
As the weather turns colder many like the darker profile and spirited warming qualities of a dubble ale. The malty aroma steeped with sweet fruit seems to compliment dropping temperatures. The complexities of malt and fruit spiciness, with restrained hop bitterness, will whisk all takers off to la-la land.
Maudite by Unibroue is a tasty version of a devilish legend for those looking to make a pact with a higher power. Loosely translated, "Maudite" means "damn" or "the damned." The word refers to the Legend of "Chasse-Galerie" (Flying Canoe), a tribute to the early Canadian lumberjacks of Nouvelle-France.
The legend tells of eight daring woodsmen who, during winter, yearned to be home for the holidays. They conjured up the Devil, and all of them pledged their soul in return for flying them home in their canoe. As they sailed across the moonlit sky, one of them managed to free himself from the pledge by invoking the name of God, which caused the flying canoe to come crashing down to earth.