Posted on
Wed, Aug 28, 2013 : 1 p.m.
Easy summer blender salsa
By Jessica Webster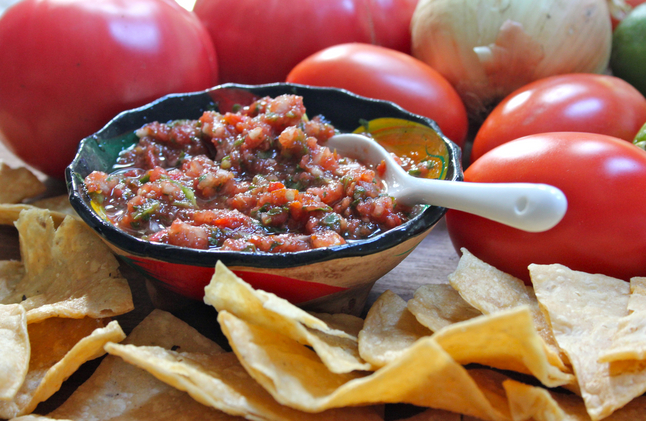 Jessica Webster | AnnArbor.com
Confession time: Until last week, I had never made my own
salsa
. I know this sounds ridiculous. You should have seen the look on my friend Melanie's face when I admitted it to her.
"How have you never made your own salsa? Are you serious? How is this even possible?"
It's not that I don't love salsa; in fact, I consider myself something of a connoisseur of America's favorite condiment. I've got my favorites for different occasions: Trader Joe's fresh hot salsa with chips, and La Preferida green jalapeno salsa on eggs. I didn't need to make my own salsa because I was perfectly happy with the salsa I could buy.
But now I have entered a new era. An era of delicious, fresh, super easy and fantastically delicious homemade salsa. And now I'll be the one making that face when you tell me you've never made your own salsa.
It happened last week. I offered to cook up some eggs for breakfast, and discovered that we had no bread for toast.
"No problem," I said. "I'll just use some tortillas and it will be like huevos rancheros!"
I opened up a can of refried beans. Sliced up the avocado. Grabbed the tortillas and eggs, and … and there was no salsa. We had used up the last of the salsa on tacos earlier in the week.
What I did have, though, was a bowl full of tomatoes and a big bunch of cilantro. Necessity being the mother of invention, I decided to finally try my hand at making my own salsa.
If you've been making your own salsa for years, you're probably laughing right now. But for me, it was a revelation. I started doing the math in my head. All those years of paying $3 to $6 for a container of salsa adds up to an impressively big number.
Furthermore, I've been working on reducing my dependence on processed foods. This is an easy way to cut another processed food from my grocery list. Up next? I'm looking at you, mayonnaise.
Two great things about this salsa: most of these ingredients are probably regularly stocked in your kitchen this time of year, so it's easy to throw together at a moment's notice; and since it's going in the blender, there is very little prep work involved.
Easy summer blender salsa
2 large or 3-4 medium tomatoes, roughly chopped and seeded
1/4 cup chopped onion
1/3 cup loosely packed chopped cilantro
2 cloves garlic, chopped
1/4 teaspoon cumin
1 tablespoon fresh lime juice
1/2 teaspoon salt
1/2 jalapeno, seeded and chopped (or more if desired)
1 tablespoon Frank's Red Hot or other hot sauce

Combine all ingredients in the blender. Blend for about 5 seconds. Pour into a bowl, cover and refrigerate. The salsa is great right out of the blender, but it's even better after the flavors have had a chance to meld for an hour or two.
Makes about 2 cups of salsa.
Jessica Webster leads the Food & Grocery section for AnnArbor.com, a part of the MLive Media Group. Reach her at JessicaWebster@annarbor.com. You also can follow her on Twitter or subscribe to AnnArbor.com's email newsletters.