Posted on
Fri, Feb 26, 2010 : 6:30 a.m.
Reveling in Purim and eating hamantaschen
By Mary Bilyeu

Purim
—
which celebrates Queen Esther of Persia foiling the evil vizier Haman's plot to destroy the Jews
—
is one of the most joyous days on the Jewish calendar as well as being one of my very favorite holidays. It begins at sundown on Saturday the 27th and ends at sundown the next day, and is celebrated with costumes, cookies and glee ... what's not to love?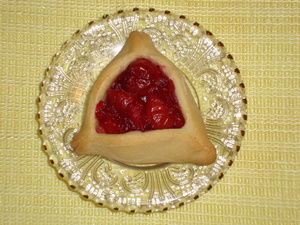 Mary Bilyeu, Contributor

It is customary to give treats to loved ones (much as I do at Christmas, only on a smaller scale) and to donate to the poor, a mitzvah (good deed) after my own little bleeding heart. This year I've sent money to support The Thrift Shop — 14 S. Washington St., Ypsilanti — whose proceeds help to take care of local individuals and families who are in great need.
In giving treats to family, friends, and others whom we love, it is traditional to include hamantaschen [HAH-men-tahsh-en] among the goodies. These filled cookies are named after the bad guy in the Book of Esther, Haman, who tried to persuade the King of Persia to exterminate the Jews; they are thought to have been named because the triangular shape is reminiscent either of his hat or of his ears. But regardless of the origin of their name, they just taste good! Every year, I hear debates about preferences for a yeast dough or a cookie dough, for poppy seed filling vs. apricot ... the variations are endless, and people always have a favorite. I, however, will eat any hamantasch (the singular) that finds its way to me.
Hamantaschen are actually easy to make, and homemade ones are infinitely preferable to anything store-bought. Roll out a standard sugar or butter cookie dough, cut into rounds, fill them, pull up the sides and pinch the corners, bake, enjoy ... it's that simple. They look far more complicated to prepare than they actually are. Of course, you can purchase pie fillings or jams, but I never take that route — I use homemade fillings and always use some of the thousands of Montmorency and Balaton cherries I had bought at the Ann Arbor Farmers Market the previous summer and pitted with my own two hands for just this occasion.
So on Saturday night, I will attend the annual Purim shpiel (an amusing enactment of the story of Esther, with themes as varied as Harry Potter and pirates and Batman), wearing the requisite costume (because Esther had been disguised, and her husband wasn't initially aware that she was a Jew until she revealed her identity in order to save her people from Haman's plot). One year I attended dressed as a pastry chef, but this year I'm going for maximum comfort by wearing jammies while carrying a teddy bear ... I suppose my costume could be called "My Inner Child!"
And then on Sunday I will sort cookies and candies and chocolate-dipped pretzels, and distribute mishloach manot [mish-lo-AKH mahn-OTE] — goodie bags — to family and friends in fulfillment of the commandment in the Book of Esther to send "portions one man to another, and gifts to the poor" (9:22). And I will happily eat any hamantaschen that anyone generously sends my way ....
Hamantaschen
Dough:
1 cup butter or Earth Balance butter substitute
2 cups sugar
2 teaspoons baking powder
1 teaspoon baking soda
pinch of salt
1 cup sour cream or vanilla soy yogurt
2 eggs
2 teaspoons vanilla extract
5 cups unbleached flour
Place the butter and sugar into a large mixing bowl and beat with an electric mixer until well combined. Beat in the baking powder, baking soda and salt. beat in the sour cream, egg and vanilla. With a spoon, stir in flour. Wrap in plastic and refrigerate until chilled.
Cherry Filling:
1 tablespoon butter or Earth Balance butter substitute
2-1/2 cups tart cherries, chopped fine
1/3 cup sugar
1/2 teaspoon almond extract
1 tablespoon cold water
1-1/2 tablespoons cornstarch
Combine the butter, cherries, sugar and extract in a medium saucepan; bring to a boil, then simmer 8 minutes. Combine the water and cornstarch, and add to the cherries; bring to a boil and cook for 2 minutes, stirring often. Remove from heat, place into a bowl, cover and chill until cold.
Lemon Filling:
3 eggs
1 cup sugar
1/2 cup fresh lemon juice
1/4 cup butter or Earth Balance butter substitute
grated peel of 2 lemons
Place all ingredients into a small saucepan and stir to combine. Cook over medium heat, stirring constantly, until mixture thickens to the consistency of whipped cream. Remove from heat, place into a jar, cover and refrigerate until cooled.
Finish the cookies:
Preheat oven to 350 degrees F.
Using 1/2 the dough at a time, roll out until the dough is thin but not very thin. Use a 2-1/2" round cookie cutter to cut out circles, and place 12 circles of dough onto a baking sheet.
Place a generous walnut-sized portion of your chosen filling into the center of a dough round; lightly moisten the perimeter of the circle. Fold up 2 sides and pinch the corner where they meet; then fold up the remaining side and pinch both corners, but leave the center open so the filling can be seen.
Bake for 10 minutes until the cookies are lightly brown. Remove to a rack and cool completely, then repeat with remaining dough and fillings.
Mary Bilyeu has won or placed in more than 60 cooking contests and writes about her adventures as she tries to win prizes, feeds hungry teenagers and other loved ones, and generally just has fun in the kitchen. The phrase "You Should Only Be Happy" (written in Hebrew on the stone pictured next to the blog's title) comes from Deuteronomy 16:15 and is a wish for all her readers as they cook along with her ... may you always be happy here!
You can contact Mary at yentamary@gmail.com. And look for an assortment of musings about a variety of topics on her blog: youshouldonlybehappy.blogspot.com.