Posted on
Mon, Apr 1, 2013 : 4:22 a.m.
Curried Egg Salad Bruschetta a delicious use of Easter's leftovers
By Peggy Lampman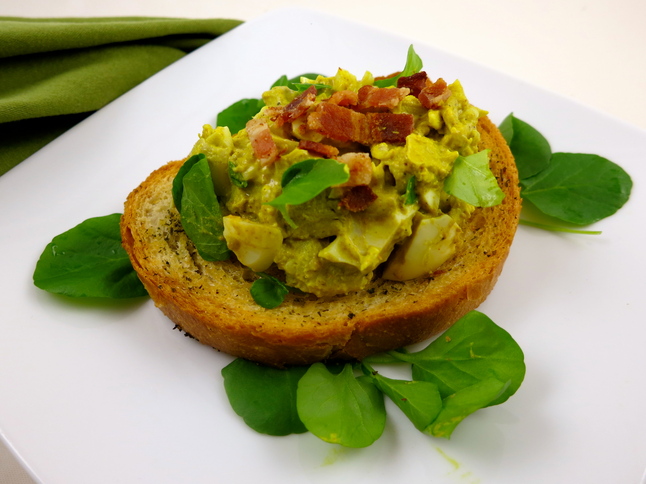 Peggy Lampman | Contributor

My dinnerFeed web site is a lean,
mean fighting machine!
To receive my lastest dinnerFeed posts
by email, sign up here.
Click here for other recipes using leftover Easter eggs.
The Monday following Easter Sunday's menu is predictable because it always centers around using leftover Easter eggs. Woe be to the child that wants to take all of their eggs home; they must share with me as my favorite eggs are the ones leftover from Easter,
To make a truly delicious egg salad, most egg salad and stuffed egg enthusiasts insist the eggs NOT be hard-cooked, somewhere between hard-boiled and soft-boiled, so the salad or stuffed eggs are creamy. That, alas, is not possible when using hard-cooked Easter eggs. (Side note: Last week I enjoyed a magnificent anchovy stuffed egg at Mani on Liberty. It was cooked to creamy perfection at an enticing price — a part of their Happy Hour menu.)
This would be a fine recipe using crostini instead of bruschetta; crostini, after all, are simply bruschetta's little brother. I sometimes use fresh chopped spinach in the following recipe and added the artichokes as an afterthought. I've often seen them incorporated into egg salad recipes and thought I'd give it a whirl.
The bites incorporating bacon are best. In fact, I would have preferred adding bacon drippings to the mayo, but my hubby would object — fat concerns, and all that. I'll bet if I snuck them in, he wouldn't have noticed. Indeed, he'd likely proclaim the egg salad to be the finest he'd ever tasted.
Delicious served room temperature.
Yield: 8 bruschetta

Time (if eggs are cooked and optional bacon is fried): 25 minutes
Ingredients:
Extra-virgin olive oil, as needed
8 (1/2-inch thick) slices Italian bread
Dried herbs, optional
3 tablespoons mayonnaise, plain yogurt or combination
2 teaspoons Dijon mustard
1- 1 1/2 tablespoons quality curry powder
2 scallions, finely chopped
6 extra large eggs or jumbo eggs, hard boiled, cooled, peeled and halved lengthwise, chopped
1 (14 ounce) can artichoke hearts, drained and chopped
3 slices cooked bacon, finely chopped, optional
2 handfuls of washed watercress or arugula leaves
Instructions
1. Pre-heat oven to 350 degrees.
2. Brush extra-virgin olive oil over bread slices and sprinkle with dried herbs, if desired. Bake on center rack of oven until lightly browned at the edges and crispy, 9-12 minutes. Reserve.
3. Combine mayonnaise and or yogurt with Dijon, curry, and scallions. Stir in chopped eggs, artichoke hearts, and season with freshly ground pepper and kosher salt, if needed. Place about 1/3 cup egg mixture over each bruschetta. Sprinkle with bacon bits and paprika, if using, and garnish with watercress.
Peggy Lampman is a real-time food writer and photographer posting daily feeds on her website and in the Food & Grocery section of Annarbor.com. You may also e-mail her at peggy@dinnerfeed.com.