Posted on
Fri, Dec 28, 2012 : 4:29 a.m.
Eggnog Custard is delicious winter treat served warm or chilled
By Peggy Lampman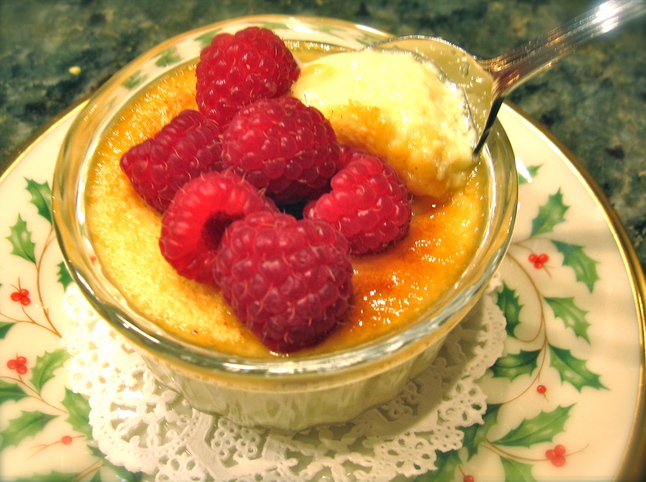 Peggy Lampman | Contributor

My Holiday Cookbook may be of assistance in your celebration strategies. Strapped for time? Check out the well-tested Super-Simple section.
I love creamy desserts and this custard, developed by friend and fellow food lover Donna Newsom, is perfect at this time of the year.
The finished recipe is equally delicious served warm from the oven or chilled from the fridge. It's only as good as the eggnog used. If you don't have time to make it from scratch, Michigan-made Guernsey eggnog is my nog of choice.
Any extra eggnog's not bad with a slosh of rum! Happy New Year!
Active time: 15 minutes
Bake time: 30-40 minutes
Yield: 6
Ingredients
1 quart eggnog
1 large egg plus 2 egg yolks, lightly beaten
1/3 cup sugar
1 teaspoon vanilla
1 tablespoon dark rum
Nutmeg for dusting
Fresh raspberries for garnish
Instructions
1. Preheat oven to 350 degrees.
2. In large bowl whisk together eggnog, eggs, sugar, vanilla and rum.
3. Fill 6 small souffle dishes with custard and place in a lasagna or cake pan. Dust the top of each custard with pinch of nutmeg.
4. Pour hot water into pan creating a bain-marie (hot water bath for custards to bake in). Fill pan just to cover half the height of your selected custard dishes.
Place custards in preheated oven for 30-40 minutes. Test by inserting a butter knife near the edge of the custard; when knife comes out clean and they are still slightly jiggly in the center, remove from oven. Cool custard in water bath; they will continue cooking to the desired creamy consistency.
5.Serve warm, room temperature or chilled with raspberry garnish.
Peggy Lampman is a real-time food writer and photographer posting daily feeds on her website and in the Food & Grocery section of Annarbor.com. You may also e-mail her at peggy@dinnerfeed.com.