Posted on
Wed, Dec 12, 2012 : 3:45 p.m.
Eggnog scones - an ideal Christmas breakfast
By Mary Bilyeu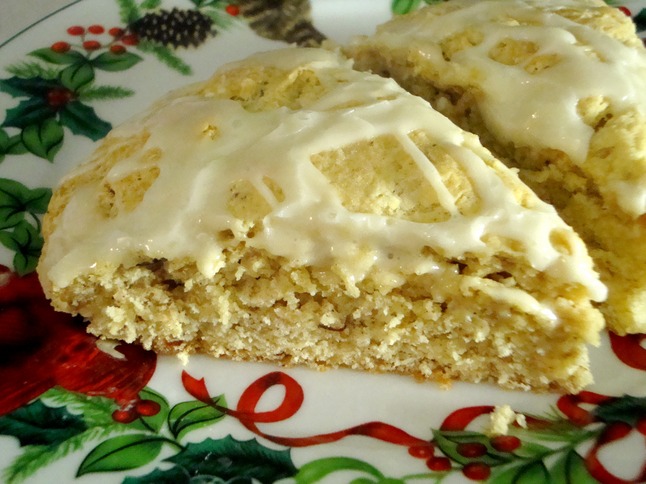 Mary Bilyeu | Contributor
Here's a lovely, simple treat that would make a great gift, or an ideal breakfast while opening presents on Christmas morning.
These were a tremendous hit at my house over the weekend. Sometimes I bake and get to enjoy the treats for several days; these scones lasted for only 24 hours!
Eggnog Scones
Scones:
2-1/2 cups flour
1/4 cup sugar
1/2 teaspoon kosher salt
1 teaspoon baking soda
1 teaspoon aluminum-free baking powder
1/2 cup quick-cook oats
1 teaspoon nutmeg
1/3 cup butter, softened
1 cup eggnog
1/3 cup dried cranberries
Preheat oven to 350 degrees. Lightly grease a baking sheet.
In a large bowl, combine flour, sugar, salt, baking soda, baking powder, oats, and nutmeg. Mix in butter with a fork until mixture is crumbly. Stir in eggnog and cranberries.
Place dough onto the prepared baking sheet, and form an 8-inch round. Score it into 8 pieces, then bake for 30-35 minutes until set in the center and golden. Let cool completely.
Glaze: 1/2 cup confectioners' sugar
1-1/2 tablespoons eggnog
Stir confectioners' sugar and eggnog together; drizzle over scones. Cut into individual scones.
Makes 8 scones.

Mary Bilyeu writes for AnnArbor.com on Tuesdays, Wednesdays, and Fridays, telling about her adventures in the kitchen - making dinner, celebrating holidays, entering cooking contests, meeting new friends ... whatever strikes her fancy. She is also on a mission to find great deals for her Frugal Floozie Friday posts, seeking fabulous food at restaurants on the limited budget of only $5 per person. Feel free to email her with questions, comments, or suggestions: yentamary@gmail.com.

Go visit Mary's blog — Food Floozie — where she enthuses and effuses over all things food-related; and look for her monthly articles in the Washtenaw Jewish News. "Like" her on Facebook, or send a tweet on Twitter, too.

The phrase "You Should Only Be Happy" (written in Hebrew on the stone pictured in this post) comes from Deuteronomy 16:15 and is a wish for all her readers - when you come to visit here, may you always be happy.