Posted on
Tue, Sep 3, 2013 : 8 a.m.
Eggplant Parmigiana - dish lets flavor of late summer vegetables shine
By Mary Bilyeu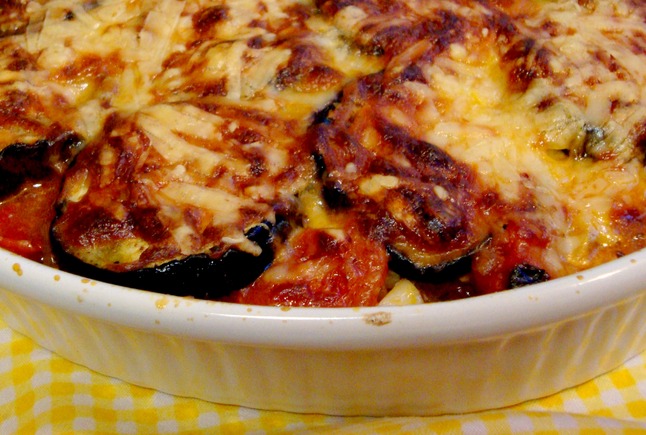 Mary Bilyeu | Contributor
I've been working six-day weeks since mid-August, getting ready for the Jewish High Holy Days;
Rosh Hashanah
(the Jewish New Year) begins tomorrow at sundown, with
Yom Kippur
(the Day of Atonement),
Sukkot
, and
Simchat Torah
still pending. As someone who works in the Jewish community, this is — shall we say politely, and with significant understatement? — the busy season.
So, my Saturdays have been precious. Saturday is Shabbat, the Sabbath, a day on which work of many varieties is forbidden. But I'm not observant. I violate the rules by driving, shopping, cooking, and baking. My ideal is to go to a farmers' market, buy beautiful produce, and then go home to turn it all into a delicious meal. That is my idea of a perfect day of rest.
Recently, Craig and I were at the Depot Town market in Ypsilanti; I was completely enthralled by the sunshine, the colors, the fragrances, the smiles, the chatter, the potential. Tomatoes could become anything from the filling for a sandwich to the base of ratatouille. Garlic could become the key ingredient in garlic bread or in a 40-clove roasted chicken dish. Corn could become a chowder or provide some color in a salsa. The possibilities, as they say, were endless.
I always look at eggplant, with its gorgeous deep purple skin, and wish I liked it better; I always pass it by, because it only warrants a "meh" on my personal food chain of favorite items. I noted that to Craig, who said, "You should make Eggplant Parmigiana." I've enjoyed good versions of it, I admit. And with eggplant, tomatoes, garlic, onions, basil — the critical components — in top form, it seemed reasonable to say, "Why not?"
Having never made the dish before, I researched a variety of versions from traditional to quick 'n' easy. Some recipes called for breading the eggplant slices, with a few advocating for bread crumbs and others for flour; some recipes called for thin slices and others for thick. There was no consensus, other than offering a layer of eggplant topped with a layer of tomato sauce topped with a layer of cheese.
Well, apparently I was on my own to improvise.
So I sliced the eggplant and sauteed it. (I actually tried to grill it, but had apparently run out of propane ... oy! The life of a food writer isn't always as smooth as the finished recipes can make it seem!) I chopped vegetables and stirred together a sauce of sorts that I didn't puree but, instead, left chunky. I added some extraordinary basil that my friend Marilyn had generously given to me. And I baked these layers of fresh produce into one beautiful dish.
We enjoyed a fabulous dinner of fresh vegetables, lightly processed so that their true flavors could shine. The Eggplant Parmigiana was tender, slightly spicy, and a perfect tribute to late summer.
Eggplant Parmigiana
2 medium eggplants
1/4 cup + 3 tablespoons extra-virgin olive oil
generous sprinkling of red pepper flakes
1 small yellow onion, chopped
3 very large cloves garlic, finely chopped
3 medium-large tomatoes, chopped
3/4 teaspoon kosher salt
generous sprinkling freshly ground black pepper
8 very large basil leaves, chopped
1 cup shredded Mozzarella cheese
1/2 cup shredded Parmesan cheese
Preheat oven to 350 degrees. Grease a 2-cup shallow baking dish.
Trim the ends from the eggplant, then cut eggplant into rounds about 1/3-inch thick.
Heat 1/4 cup oil in a large skillet and cook the eggplant for 5 minutes per side over medium heat, until eggplant is tender and golden brown. Set aside.
Heat the remaining 3 tablespoons oil in a large skillet over medium-high heat. Add the red pepper flakes, onion, and garlic; saute for 2 minutes. Add the tomatoes and cook, stirring occasionally, for 15 minutes until most of the liquid has evaporated. Stir in the salt, pepper, and basil.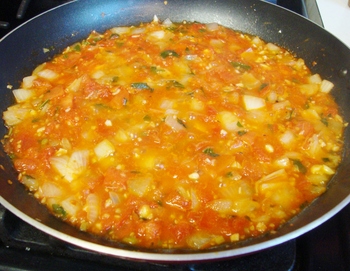 Mary Bilyeu | Contributor
Place half the tomatoes into the prepared baking dish. Lay half the eggplant in a single layer over the tomatoes, then sprinkle with 1/2 cup Mozzarella. Spread the remaining tomatoes over the cheese, then top with the remaining eggplant. Sprinkle the rest of the Mozzarella over the eggplant, then sprinkle the Parmesan over everything.
Bake for 30 minutes, until sauce is bubbling and cheese is a deep golden brown.
Serves 2.

Mary Bilyeu - a self-proclaimed Food Floozie (named for her blog, which is taking a summer vacation) - writes for AnnArbor.com on Tuesdays, Wednesdays, and Fridays, telling about her adventures in the kitchen. She is also on a mission to find great deals for her Frugal Floozie Friday posts, seeking fabulous food at restaurants on the limited budget of only $5 per person. Feel free to email her with questions, comments, or suggestions: yentamary@gmail.com.

The phrase "You Should Only Be Happy" (written in Hebrew on the stone pictured in this post) comes from Deuteronomy 16:15 and is a wish for all her readers - when you come to visit here, may you always be happy.