Posted on
Mon, Feb 11, 2013 : 10:41 a.m.
Eggplant Stuffed with Couscous and Feta full of Mediterranean flavor
By Peggy Lampman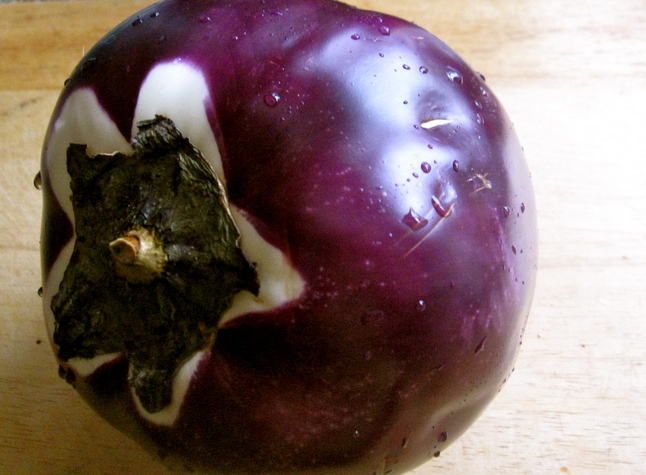 Peggy Lampman | Contributor

My dinnerFeed web site is a lean,
mean fighting machine!
To receive my lastest dinnerFeed posts
by email, sign up here.
In the doldrums of wintry February — Farmers Markets finished, kitchen gardens put to sleep — it's a gift to be inspired by a vegetable.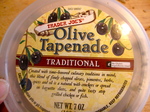 I spied this chubby baby at Hiller's, and she was begging to be cut in half and stuffed. Eggplant's hearty skin makes the perfect encasement for stuffings, and I usually gravitate between a couple of ground lamb stuffed modifications in past recipes. Tonight I'd prefer a vegetarian option, so substituted my usual ground meat with couscous; I debated mightily whether to use quinoa or rice instead of the couscous, which would also be fine in the following recipe.
Down the road from HIller's, I stopped at Trader Joe's, which stocks a great ready-made tapanade; I usually spread it over goat cheese and serve it as a quickie appetizer, but today I'm letting it be the workhorse in the recipe; filled with the flavors of chopped olives, herbs and spices, it provides a great deal of Mediterranean flavor. You could make your own, if you have the time.
(Pssst...Valentine's Day is this Thursday. Click here for a slideshow of treats to butter up your loved ones.)
Ingredients
2/3 cup instant dry couscous, whole wheat or white
1 (6-inch diameter) globular eggplant
1 1/2 tablespoons plus 1 tablespoon extra virgin olive oil, plus extra for brushing into shell
1 small onion, diced (1 cup)
2 tablespoons tomato paste
3 tablespoons prepared olive tapanade
3 tablespoons toasted pine nuts
1/2 cup crumbled feta
1/4 cup fresh chopped mint, basil or parsley
1/2 cup panko
Instructions

1. Preheat oven to 350 degrees.
2. Bring a cup of water to a boil; sitr in couscous and cover. Let stand 5 minutes then fluff with fork.
3. Cut the eggplant in half, down the center, and scoop out the center, leaving enough meat inside the skin so that it holds its shape when baked (1/2-inch lip). Trim a bit of the bottom so it sits straight. Chop eggplant pulp and reserve.
4. In a large sauté pan, heat 1 1/2 tablespoons olive oil over medium heat. Sauté onion 3 minutes, add tomato paste and sauté an additional minute. Add chopped eggplant and sauté 3 additional minutes or until eggplant is tender. Stir in cooked couscous and olives.
5. Lightly season mixture with freshly ground pepper. Let cool slightly, then stir in pine nuts and feta.
6. In a bowl mix together the panko and remaining tablespoon olive oil.
7. Brush interior and lip of eggplant shell with olive oil. Fill the scooped-out eggplant halves with this mixture, dividing it evenly among the 2 halves, and top with panko. Place on an oiled cooking sheet or baking dish, lightly tent with foil and bake for 15 minutes on middle rack of oven. Remove foil and bake and additional 25 minutes or until eggplant is tender.
Peggy Lampman is a real-time food writer and photographer posting daily feeds on her website and in the Food & Grocery section of Annarbor.com. You may also e-mail her at peggy@dinnerfeed.com.