Posted on
Thu, Mar 29, 2012 : 8 a.m.
Elvis's dietary preferences inspire peanut butter and banana tart
By Mary Bilyeu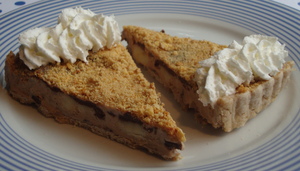 Mary Bilyeu, Contributor
Elvis Presley was noted for many things, among them his beautiful baritone, his white jumpsuits, his gyrations and his beloved grilled peanut butter and banana sandwiches.
Since I obsess about food, let's focus on those sandwiches, shall we?
This is my final entry into Project PB&J — a contest for food bloggers which is being hosted by my friend Cindy of Once Upon a Loaf and her friend Christina of She Runs, She Eats. The competition is in honor of National Peanut Butter and Jelly Day, as well as Cindy's birthday, on April 2; and the rules required preparing a sandwich and/or a baked good with a nut butter and a jelly/jam or fruit.
So, as I thought of all the variations on the theme of peanut butter paired with fruit, how could I not think of Elvis' favorite treat? And yet, that particular pb&j has already been done, hasn't it? Hmmm ....
But it could be transformed into a different entity, couldn't it, taking the essential components and whirling them in my brain until I devised a different concoction with those flavors...?
And so, I settled upon a dessert... a dessert with a peanut butter-flavored crust... a dessert with a peanut butter-flavored filling... a dessert with a peanut butter-flavored topping... and a dessert with bananas happily mixed in.
Thus, I present to you... the Hunka Hunka Burnin' Love Tart!
Hunka Hunka Burnin' Love Tart
Crust:
1-1/4 cups flour
1 tablespoon brown sugar
1/2 teaspoon kosher salt
1/4 cup butter, chilled, cut into small cubes
1/4 cup smooth peanut butter
3 tablespoons ice water
In a large bowl, combine the flour, brown sugar and salt. Cut in the butter until the mixture resembles meal. Mix in the peanut butter with a fork. Add water 1 tablespoon at a time and stir with a fork; then knead gently until the mixture comes together. Form dough into a ball, flatten into a disc, and wrap in plastic; refrigerate for 30 minutes.
Preheat oven to 350 degrees. On a lightly floured countertop, roll out dough to a 12-inch round. Place dough into a 9-inch tart pan with a removable bottom or into a 9-inch pie pan; trim edges.
Place a sheet of foil into the crust and fill with dry beans. Place the tart pan onto a baking sheet; bake for 15 minutes, until the crust is set. Remove foil and beans, bake for 5 more minutes until the crust is cooked, then let crust cool completely.
Filling:
2 cups Breyer's Reese's Peanut Butter Cup ice cream, very soft
3 small bananas, sliced thin
1/3 cup Nutella
1/4 cup peanut butter-flavored Multi Grain Cheerios, ground (a fabulous marketing gift to play with!)
1/4 cup dry roasted peanuts, ground
whipped cream, if desired
Spread the ice cream into the prepared crust; top with the sliced bananas, then freeze for 45 minutes until the ice cream is mostly set.
Spread the Nutella over the bananas, swirling it over the top. (If the ice cream mingles with the Nutella, it won't hurt anything ... I know from personal experience!) Combine the Cheerios and peanuts, then sprinkle over the top of the tart. Freeze for at least three hours until firmly set.
Let the tart rest at room temperature for 10 minutes before cutting and serving.
Makes 12 servings. Serve with whipped cream, if desired.
Be sure you play Elvis tunes while you prepare this. Just as you should listen to arias while cooking Italian food, you need to listen to the King while making this tart in his honor! Infuse your food with the appropriate spirit ....

Mary Bilyeu writes about her adventures in the kitchen - making dinner, celebrating holidays, entering cooking contests ... whatever strikes her fancy. She is also on a mission to find great deals for her Frugal Floozie Friday posts, seeking fabulous food at restaurants on the limited budget of only $5 per person. Feel free to email her with questions or comments or suggestions: yentamary@gmail.com.
You should also visit Mary's blog — Food Floozie — on which she enthuses and effuses over all things food-related.


The phrase "You Should Only Be Happy" (written in Hebrew on the stone pictured in this post) comes from Deuteronomy 16:15 and is a wish for all her readers - when you come to visit here, may you always be happy.