Posted on
Thu, May 17, 2012 : 1 p.m.
Embrace your inner Olympic athlete with a slice of cheesecake
By Jessica Webster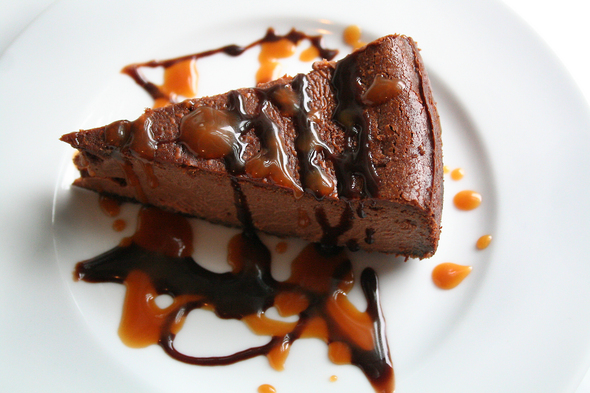 Jessica Webster | AnnArbor.com
For most of my life, I have shied away from cheesecakes. Heavy as bricks, and often sickly sweet, I usually regret my order after the first bite.
Of course there are delicious cheesecakes, and I've had a few of those as well. And it turns out they've been enjoyed by dessert lovers for a very, very long time.
When researching this article, I expected to find that cheesecake rose to prominence with the development of cream cheese in the late 1800s. But while it is true that the modern era of cheesecakes (especially New York-style cheesecakes) can be traced back to the 1880s, cheesecake have been around a whole lot longer than that.
This summer, as we sit on our couches and tune in to watch the world's finest athletes run, swim, jump and play their way to gold medals, we might consider having a slice of cheesecake. Historians tell us that mini cheesecakes were served to athletes at the first Olympic games in 776 BC.
The first written recipe for cheesecake comes to us just about a thousand years later. Here's Greek rhetorician and grammarian Athenaeus on the proper way to make a cheesecake, back in 230 AD:
"Take cheese and pound it till smooth and pasty; put cheese in a brazen sieve; add honey and spring wheat flour. Heat in one mass, cool, and serve."
With this kind of history and pedigree, I felt like I owed it to the dessert to give it another chance. After hours of recipe research, I settled on this recipe from a 1999 Gourmet magazine. Yes, it's rich. Very rich. But it's not overwhelmingly sweet, and the notes of chocolate and caramel shine through nicely.
I might become a cheesecake fan yet.

Crumb Crust



1 1/2 cups (5 ounces) finely ground chocolate graham crackers or chocolate wafers


5 tablespoons unsalted butter, melted


1/3 cup sugar


1/8 teaspoon salt


Stir together crust ingredients and press onto bottom and 1 inch up side of a buttered 24-centimeter springform pan. Fill right away or chill for up to 2 hours.

Chocolate Caramel Cheesecake from Gourmet Magazine
1 crumb-crust recipe , made with finely ground chocolate wafer cookies
1 cup sugar
3/4 cup heavy cream
8 ounces fine-quality bittersweet chocolate (not unsweetened), chopped
1/2 cup sour cream
3 (8-ounce) packages cream cheese, softened
4 large eggs
1 teaspoon vanilla
Make crumb crust as directed in separate recipe, using chocolate wafer cookies or chocolate graham crackers. Set it to chill in the fridge while you make the filling.
Preheat oven to 350 degrees.
Cook sugar in a dry heavy saucepan over moderately low heat, stirring slowly with a fork, until melted and pale golden. This takes a little time — don't rush it. Cook caramel without stirring, swirling pan, until deep golden. Remove from heat and carefully add heavy cream (mixture will vigorously steam and caramel will harden). Cook over moderately low heat, stirring, until caramel is dissolved. Remove from heat and whisk in chocolate until smooth.
Stir in sour cream.
Beat cream cheese with an electric mixer until fluffy, then beat in chocolate mixture on low speed. Beat in eggs, 1 at a time, then vanilla, beating on low speed until each ingredient is incorporated and scraping down bowl between additions.
Put springform pan with crust in a shallow baking pan. Pour filling into crust and bake in baking pan (to catch drips) in middle of oven 55 minutes, or until cake is set 3 inches from edge but center is still slightly wobbly when pan is gently shaken.
Run a knife around top edge of cake to loosen and cool completely in springform pan on a rack. (Cake will continue to set as it cools.) Chill cake, loosely covered, at least 6 hours. Remove side of pan and transfer cake to a plate. Bring to room temperature before serving.
Serve the cheesecake as is, or drizzle with caramel or chocolate sauce. Or both. Yum!
Cheesecake keeps, covered and chilled, 1 week.
Serves 12-15.
Jessica Webster leads the Food & Grocery section for AnnArbor.com. You can reach her at JessicaWebster@AnnArbor.com.