Posted on
Tue, Apr 10, 2012 : 11:30 a.m.
Empty Bowls Benefit for SOS Community Services is April 11
By Mary Bilyeu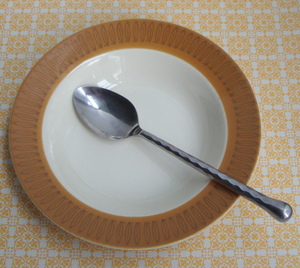 Mary Bilyeu | Contributor
Enjoy a good dinner for a great cause!
Join me tomorrow tonight, Wednesday, April 11, at Frenchie's for Concordia University's Empty Bowls Benefit. A minimum donation of $10 — though more is always welcome! — will get you a soup dinner, a hand-crafted ceramic bowl and the satisfaction of knowing that you've helped to provide for the homeless and the hungry in our area.
All proceeds from this fabulous event will be donated to SOS Community Services, which helps nearly 5,000 families each year to find homes, find food, and find stability in the midst of trauma. Here are more specifics about why it is imperative to support SOS:
"In Washtenaw County alone, 8 to 10 families become homeless each week .... (SOS provides) a safe place for homeless families to regroup and find their footing. Temporary shelter, assistance securing permanent housing, employability, parent and child support services all work in unison to help people return to self-sufficiency with the enhanced skills to secure their long-term independence."
This exceptional organization offers emergency services, a walk-in food pantry, support programs for children (who suffer anxiety, malnutrition, developmental delays, and many other tragedies when their families are in crisis), and so much more.
In addition to the comfort of a delicious soup dinner and the handmade souvenir bowl you'll get to take home, there will also be a silent auction of glass bowls that have been generously donated by local artists. What a great community event to support a great community resource!
So head on down to Frenchie's between 5-8 p.m. tomorrow evening; I'm giving you advance notice so you can plan to come. Bring your family, bring your friends — the more the merrier, as they say! I hope to see you there....

Frenchie's
54 E. Cross St.
Ypsilanti, MI 48198
734-483-5230

Mary Bilyeu writes about her adventures in the kitchen - making dinner, celebrating holidays, entering cooking contests ... whatever strikes her fancy. She is also on a mission to find great deals for her Frugal Floozie Friday posts, seeking fabulous food at restaurants on the limited budget of only $5 per person. Feel free to email her with questions or comments or suggestions: yentamary@gmail.com.
You should also visit Mary's blog — Food Floozie — on which she enthuses and effuses over all things food-related.


The phrase "You Should Only Be Happy" (written in Hebrew on the stone pictured in this post) comes from Deuteronomy 16:15 and is a wish for all her readers - when you come to visit here, may you always be happy.