Recipe:

Enjoy local, in-season blueberries with this classic French clafouti

Posted on Thu, Jul 19, 2012 : 4:18 p.m.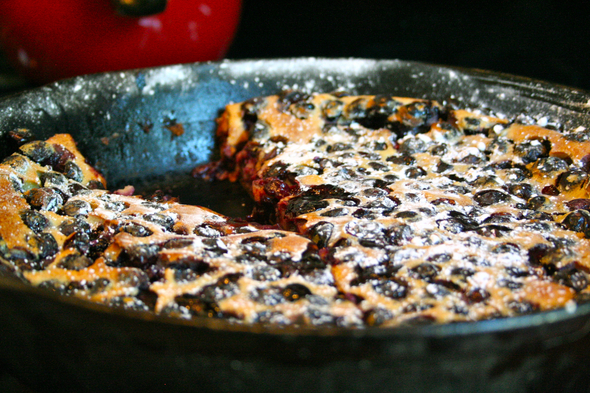 Jessica Webster | AnnArbor.com

We've hit blueberry season here in Michigan. No longer do we have to settle for sour, bitter berries transported here from hundreds (thousands) of miles away. Instead, for a brief, beautiful few weeks, we're rolling in gorgeous, sweet juicy goodness.

I love blueberries in pies, in pancakes, sprinkled in granola, mixed in with vanilla ice cream, or just by the handful. They're the second most popular berry in America (after strawberries), and are considered a "superfood" thanks to their plentiful antioxidants.

I picked up a large container of Michigan blueberries last week, and set out to find a new recipe worthy of these blue beauties. I recently inherited an early edition of Julia Child's masterpiece, "Mastering the Art of French Cooking" so I began my search in the dessert section.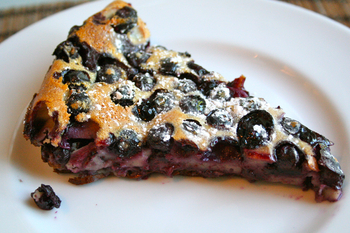 Jessica Webster | AnnArbor.com
I settled on clafouti (also spelled clafoutis), a simple "peasant cooking" dessert that's been a French staple since the 1800s. Usually made with black cherries, Julia also offered a blueberry variation: Clafouti aux Myrtilles. Traditionally, a clafouti made with any fruit other than cherries is called a flaugnarde, but let's not get hung up on technicalities.
It is simple. Most, if not all of the ingredients are probably in your pantry or refrigerator right now. There are no leavening agents, so the dish doesn't rise at all. The center of the clafouti is somewhat custardy — almost like a flan. But the top puffs up and browns when it's finished cooking, almost like a soufflé.
Julia Child refers to the batter as "pancake batter," and the bottom of the clafouti, which you set over moderate heat before adding the fruit and popping into the oven, does resemble a crepe. It's a lovely marriage of textures and flavors.
I chose to use blueberries for this recipe, but if you can get your hands on some Michigan cherries, try it with them. Just reduce the flour to 1/2 cup and omit the lemon juice. Some cherry clafouti recipes include a couple of tablespoons of kirsch — feel free to play around with fruits and flavors that work for you.
Julia Child's Blueberry Clafouti from "Mastering the Art of French Cooking"
For 6-8 people
1 1/4 cups milk
1/3 cup sugar
3 eggs
1 tablespoon vanilla
1/8 teaspoon salt
1 cup flour
3 cups blueberries
2 tablespoons fresh lemon juice
1/3 cup sugar
Powdered sugar
1. Put the milk, 1/3 cup sugar, eggs, vanilla, salt, and flour in a blender in the order in which they are listed. Blend at top speed for one minute.
2. Pour a 1/4 inch layer of the batter in a lightly buttered 7 or 8 cup fireproof baking dish, cast iron skillet or Pyrex pie plate about 1 1/2 inches deep.
3. Set over moderate stovetop heat for a minute or two until a film of batter has set in the bottom of the dish. Remove from heat.
4. Toss the blueberries with lemon juice, and then spread them over the batter and sprinkle on 1/3 cup of sugar. Pour on the rest of the batter and smooth the surface with the back of a spoon.
5. Place in the middle position of a preheated 350-degree oven and bake for about an hour. The clafouti is done when puffed and brown and a knife plunged in the center comes out clean.
6. Sprinkle the top of the clafouti with powdered sugar just before bringing it to the table.
(The clafouti need not be served hot, but should still be warm. It will sink down slightly as it cools.)