Wildcrafting:

Experiments with purslane

Posted on Fri, Aug 26, 2011 : 2:07 p.m.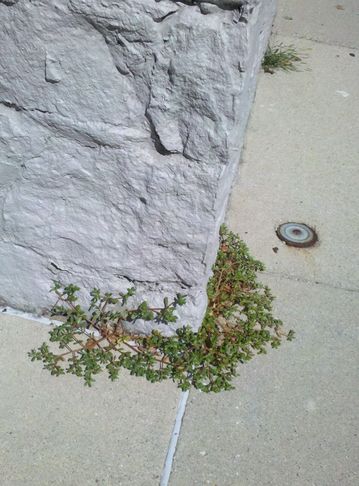 Linda Diane Feldt | Contributor
Purslane, Portulaca oleracea, can be made into in pesto, garlic sauce, juice and kim chi. Add it to stir fries, omelets, cook it in soup. It can be preserved through drying and freezing or pickled. One of these was a total failure, two were fabulous, and the rest pretty good. Curious about this plant and its uses? Read on.
This has been a great year for purslane. As you walk through downtown Ann Arbor, you'll find purslane emerging from sidewalk cracks, taking over at the base of city trees, spreading into the spaces where other vegetation has been removed or given up. It moves into gardens overtly and determinedly, sprawling across open patches and continuing out into grassy areas.
I've blogged previously about the nutritional benefits of purslane. The short recap is it is loaded with omega 3 precursors. It is mineral rich, as well as having vitamin C, E, and so many other nutrients it can be used therapeutically for a variety of ailments. This is one of the most nutrient-rich plants available, yet it is still treated as a weed by gardeners who should know better.
I was invited to harvest some purslane from a local blogger's garden. She wanted it out, but knew enough of its value to hope it went to a good home. When I arrived, I was surprised by a huge patch of low lying dense vegetation, at least three-by-six feet. It was all purslane that had self-seeded and thrived. We picked three full shopping bags of the nutritious green — plenty to experiment with.
PESTO
My favorite was the pesto. I used a normal pesto recipe, just substituted purslane for basil. To a few handfuls of purslane (stems included) I added olive oil, garlic and salt in a food processer. Most of it went into the freezer in small baggies for later consumption. The pesto seemed especially well matched with lots of garlic. With only a little garlic, the flavor was too lemony.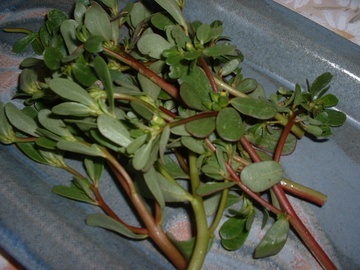 Linda Diane Feldt | Contributor
GARLIC SAUCE
I take a quart of homemade yogurt and strain it in a jelly bag. You can also use cheese cloth. Let it strain for about three to four hours; overnight straining gives it an especially thick wonderful texture. If you're impatient, just buy plain Greek style yogurt and use that. For two cups of thickened yogurt, add in a handful of purslane leaves (no stem), two to four cloves crushed garlic, a splash of lemon juice and an eight of a teaspoon great salt (or less). Let it sit in the refrigerator for at least an hour. This sauce is great over cooked greens, on rice dishes or as a dip for chips or veggies, it's amazing on baked potatoes and so many other uses.
KIM CHI
I've blogged before about making kim chi, a salt-preserved cabbage-based vegetable mix from Korea. Adding purslane — stems and leaves — to your mix is an excellent addition.
COOKING WITH PURSLANE
Generally speaking, purslane can be used like spinach or other greens. Add it to stir fries and to egg dishes; it's great in soup and stews. It can be a little slimy, so if you don't like that texture, be sure and add it later and cook it quickly.
DRIED
This ended up fairly strange. The stems are hard to dry, and they tend to dominate once it is dried. It took a long time, many days, and it still may not keep well since it starts so succulent. It kept its lemony sour taste for a while. I'm not sure what I'll do with it now. Soup seems the obvious answer; I may also use it in stews and my vegetarian version of meat loaf. I also don't know how much of the nutritional value is preserved after drying, but I assume it will still deliver significant value.
VINEGAR
I filled a sterile jar with the purslane and then added apple cider vinegar to the top. Make sure you use a plastic lid for this, as metal will interact with the vinegar. After a few weeks, the results are really tasty. The lemony taste and vinegar are a great, full combination, and this will be great mixed into grains and greens as an interesting (and nutrient rich) condiment. Vinegar makes the minerals in greens more bio-available, so it is a great addition. After a few more weeks, I'll pull out the purslane and eat it, then save the vinegar for making salad dressings and using as a condiment. For more on using vinegar, see this previous blog.
FREEZING
I'm not sure yet how this will turn out. Freezing without blanching is likely to be good only in the short term. If you blanch it first, I advise the shortest time possible. I brought water to a boil, grabbed a batch of purslane with tongs, thrust it into the water, and almost immediately pulled it out as the color changed. I then placed it in freezer bags, and I'll check it in six months and let you know how it tastes.
JUICING
Here was my failure. It didn't juice well in my Champion juicer, and it tasted awful. Don't do this.