YOU SHOULD ONLY BE HAPPY .....
food & drink:

Silvio's in Ann Arbor serves up indulgent desserts for a Frugal Friday price

Posted on Fri, Jul 29, 2011 : noon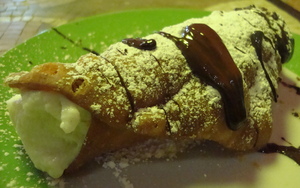 Mary Bilyeu | Contributor
Tom and I recently ate dinner at one of our very favorite restaurants: Silvio's Organic Pizza in Ann Arbor.
Since today is Frugal Floozie Friday, I won't rave on too much about the amazing Capricciosa [cah-pree-CHO-suh] pizza we ate, which — at $11.89 — just exceeded the mandatory budgetary limit of $5 per person. But it was exceptional!
The pizza (a term which seems so inadequate for a hand-formed work of art) was rich with the flavors of pungent ripe olives, beautiful thin slices of a lovely Italian ham, artichoke hearts and restrained quantities of mozzarella that balanced the other ingredients rather than burying them, all on a thin and crisp crust.
Instead, I'll tell you about the two — yes, two! — desserts we shared. We were feeling celebratory and indulgent about our reunion. Each was priced at $2.89. Therefore, individually they clearly met the budgetary constraints; but they also were within the per-person limit when we combined them, so why not have a bit of extra fun?
The Nutella Pocket was brought out first — a six-inch-long vision of chocolate-drizzled beauty. There was an ideal balance between the sweet, flaky pastry and the strip of rich, luxuriant Nutella running through it.
Whereas many restaurants might engage in overkill with too much of one flavor, a gigantic and excessive portion, or dousing the dessert in whipped cream or other accouterments, Silvio's practiced the perfection of restraint.
The dessert was just the right size to share with someone, it was simply splashed with rich chocolate sauce as an accent rather than pouring it over the treat, and the flavors all worked in unison, as the proportion of pastry to filling was sublime.
And then, as though the pizza and the Nutella Pocket weren't sufficient, we relished a Sicilian cannoli (pictured at the top of the post), which exceeds my ability to adequately describe it. Half of the filling was a creamy vanilla custard with just a hint of the vibrancy of lemon; the other half was a deep, bittersweet chocolate.
The fillings were lusciously smooth, almost sinfully seductive. In contrast, the fried shell was crisp and crunchy, providing just enough body when paired with the creaminess. And again, the proportions of each ingredient were in perfect balance. The cannoli was utterly decadent!
Needless to say, Tom and I more than received our money's worth. For less than $3 each, we indulged in unbelievably luscious desserts. What noble people we are, engaging in such strenuous research for today's Frugal Floozie Friday feature!
Silvio's Organic Pizza

715 N. University Ave.

Ann Arbor, MI 48104

734-214-6666


has won or placed in more than 60 cooking contests and writes about her adventures in the kitchen. She was thrilled to have her post about Scottish Oatmeal Shortbread named as one of the daily "Best of the Blogs" by the prestigious Food News Journal.
Go visit Mary's blog — Food Floozie — on which she enthuses and effuses over all things food-related. Her newest feature is Frugal Floozie Friday, seeking fun and food for $5 or less ... really! Feel free to email her with questions or comments or suggestions: yentamary@gmail.com.
The phrase "You Should Only Be Happy" (written in Hebrew on the stone pictured in this post) comes from Deuteronomy 16:15 and is a wish for all her readers as they cook along with her ... may you always be happy here.