Posted on
Thu, Sep 1, 2011 : 4:15 a.m.
Grilled Flank Steak Fajita Bar is the perfect solution for entertaining guests in a bare-bones kitchen
By Peggy Lampman
Peggy Lampman | Contributor

Peggy Lampman's Thursday dinnerFeed: Up North Vacation: Day 4
What do you get when you combine a dozen or so hungry revelers, a bare bones, unfamiliar kitchen and a limited time to cook? A fajita party, which was the perfect solution for entertaining friends and family while vacationing in Northern Michigan.
Fajitas, ubiquitous in Tex-Mex restaurant chains across America, are accommodating crowd pleasers. They are often made, as in the recipe below, with grilled skirt or flank steak, and served with tortillas, sauteed onions and peppers, guacamole, sour cream and salsa. Grated cheese and shredded lettuce are often included.
If vegetarians are a part of your crowd, add a dish of black beans to include a non-meat protein. Chicken or shrimp may be substituted for flank steak, or serve a combination of all three.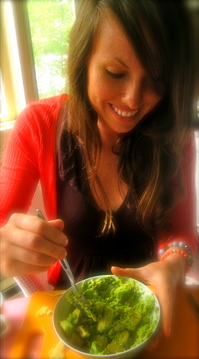 Aside from grilling the flank steaks 30 minutes prior to serving, much of the prep work was done in advance. I marinated the meat the day before and organized the fajita fillings several hours in advance. Even though the most primitive of grocery stores usually stocks Southwest seasoning blends, I remembered to pack my own special mix before my travels to rub over the steaks before grilling.
We're in the height of tomato season, so I diced some juicy, flaming redheads purchased at a roadside stand and served them unadorned for the salsa. Feel free to jazz them up with chopped white onion, hot peppers and lime juice.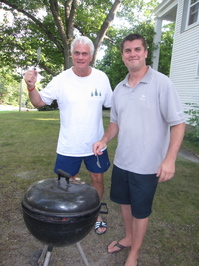 The result? The spicy rub hits the base notes, lending a flavorful crust, and the cooling tomatoes and piquant flavor of lime hit the treble. Herbaceous cilantro, creamy guacamole and seasonal tomatoes balance the composition; a symphony of flavor.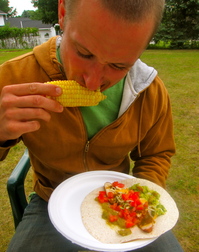 A fajita bar menu is ideal for casual entertaining for hosts who enjoy creating a relaxed party atmosphere without much fuss. Guests design personalized fajitas, and the tortilla base serves as an edible plate.
Eschew forks, if you desire; fajitas may be eaten — as long as they're not gargantuan — with fingers. A fine remedy for satisfying your troops over the Labor Day weekend; a clever strategy for autumn tailgating, as well. Margaritas welcomed.
Yield: 16 fajitas
Time to marinate steak: 12 to 24 hours
Time to let steak sit with rub: 1 hour before grilling
Grilling time: 15-20 minutes
Active time: 50 minutes (and don't forget the time needed to ripen avocados!)

Ingredients

1/2 cup freshly-squeezed lime juice, plus additional lime juice as needed and whole limes cut into wedges
1/2 cup canola or other light oil, plus 2 tablespoons additional oil
1 tablespoon plus 1 teaspoon minced garlic
2 flank steaks, 1 1/2 pounds each
1 medium-sized yellow onion, peeled and cut into slices
4 assorted colored bell peppers, membranes removed, seeded and cut into slices
2-3 large, ripe avocados
Cayenne or your favorite hot sauce
1 small bunch cilantro, leaves removed, washed and coarsely chopped
4-6 large tomatoes, washed, cored and seeded or your favorite salsa
2 tablespoons Southwest spice rub*
16 large, fajita-sized flour fajitas (I used a combination of white and multigrain)
3-4 cups shredded cheese, such as Manchego, Jack, cheddar or Asadero, optional
8 ounces sour cream

* I used a combination of smoked chili powder and adobo blend seasoning purchased from the Spice Merchants in Kerrytown. Any combination of purchased Tex-Mex-type rubs you enjoy would work, or combine cumin, chili powder, granulated onion or garlic powder, cayenne or smoked chipotle to taste.
Directions
1. Whisk together 1/2 cup lime juice, 1/2 cup oil and 1 tablespoon of garlic and place in shallow pan or resealable plastic bags large enough to accommodate meat. Season each side of flank steak with kosher salt and place in lime marinade. Refrigerate and marinate at least 12 hours and up to 24 hours, occasionally turning.
2. In a large saute pan, heat remaining 2 tablespoons oil over medium-low heat in a large saute pan. Saute onions with a pinch of salt until just beginning to become limp. Stir in peppers and cook until peppers are tender. (If your pan is too small to accommodate peppers, cook in a separate pan with additional oil. This may be done up to 12 hours in advance, then reheated before serving.)
3. To make a guacamole, pit avocados and scoop flesh into a medium-sized bowl. Smash with a fork until creamy yet chunky and season to taste with lime juice, remaining teaspoon of garlic, kosher salt, cayenne or hot sauce and chopped cilantro to taste, reserving remaining cilantro. Refrigerate and reserve. (This may be done up to 2 hours in advance.)
4. If using tomatoes, cut into a large dice, season to taste with kosher salt and place in a bowl. Reserve at room temperature.
5. Remove flank steaks from marinade and pat dry. Rub seasoning into both sides of flank steak. Let sit at room temperature one hour. Prepare a gas or charcoal fire to high heat. Cook flank steaks until rare or medium rare, 7-10 minutes on each side. (Flank steak toughens if it is cooked past medium rare.)
6. Meanwhile, cover tortillas in foil and heat in oven or grill or reheat, on a plate covered with saran, in microwave until warm. Place shredded cheese, sour cream and remaining cilantro in small bowls.
7. Let flank steak sit at least 10 minutes on a cutting board. Slice diagonally into thin strips and place on a platter. Serve alongside tortillas, shredded cheese, sour cream, chopped cilantro, tomatoes or salsa, guacamole, sauteed onions and peppers. Let guests build their own fajita.

Looking for a specific recipe? Click here for dinnerFeed's recipe search engine; type the recipe or ingredient into the search box. I am a real-time food writer and photographer posting daily feeds on my website and in the Food & Drink section of Annarbor.com. You may also e-mail me at peggy@dinnerfeed.com.