Posted on
Mon, Aug 27, 2012 : 11:29 a.m.
Fat Tire beer rolls into Michigan and Ann Arbor; will you drink it?
By Bob Needham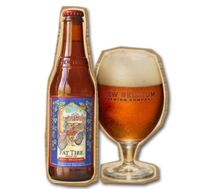 New Belgium Brewing Co.
Fat Tire has come to Michigan.
This is big news for fans of the Colorado-based New Belgium Brewing Co. The brewer produces a variety of other beers, including some seasonal offerings, as well as its signature Fat Tire Amber Ale.
Although New Belgium is the third largest craft brewer in the country, it is not distributed nationwide.
So Fat Tire fans—and anecdotal evidence suggests there are many—were delighted in March when the company announced it would begin distribution in Michigan this month (first in bottles, with draft to follow). Although New Belgium's "libation locator" still (as of this writing) shows Michigan in the dry zone, a special Facebook page about the Michigan move says that 5 New Belgium beers go on sale today (Aug. 27), with wide availability, "even Meijer or Kroger."
Being somewhat aware of the hype surrounding Fat Tire, my parents a couple of years ago brought me some Fat Tire Amber Ale from a trip out of state. I'm not a beer expert, but I am a fan. And while I thought the Fat Tire was well done, I couldn't quite understand the cult-like fuss. There are any number of beers produced by Michigan craft brewers that I'd rate higher.
But maybe that's just me—and I am interested to try some of the other New Belgium concoctions. (I see they have a couple different IPAs!)
So what do you think—is the Fat Tire arrival big beer news, or not? And for those with more familiarity with the New Belgium offerings than I have, which ones should I try? Vote in the poll and/or leave a comment below:
Bob Needham is director of entertainment content for AnnArbor.com. Reach him at bobneedham@annarbor.com or 734-623-2541, and follow him on Twitter @bobneedham.