peggy lampman's dinnerfeed
recipe:

Bacon-Jam Burger Knock-Off - recreating a prize-winning northern Michigan classic

Posted on Thu, Jun 14, 2012 : 4:35 a.m.
Peggy Lampman | Contributor

To receive my lastest dinnerFeed posts
by email, sign up here.
What inspires many of us of down-state Michiganders to pack our backs and head north each summer? The scratch of sand through toes as we traverse dunes and traipse along water's edge...endless days evaporating into a purple-pink patina, as the sun sinks into the lake. Yes — certainly — but a few weeks back, Richard and I packed our bags and headed north in pursuit of a hamburger.
Not just any ol' run-of-the-mill burger. A team from Midwest Living magazine recently compiled a list of 130 of our region's most popular, prize-winning hamburgers, then "...crafted a scorecard, hit the road, and rated each one" to select 25 winners. The Bacon-Jam Burger, on the menu at Charlevoix's Roquette Burger cafe, made the cut.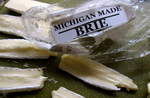 According to Midwest Living, in one bite of the bistro's Bacon-Jam Burger, "...you get smoky-sweet-peppery-creamy perfection inspired by the farms that surround this popular tourist town." According to the magazine, the hamburger is "...locally sourced beef and bison with a slab of Brie, a smear of bacon-onion compote and a thatch of peppery arugula."
Be still my heart; I couldn't resist the call of the siren — I must taste this towering shrine to the senses. Planning to spend the Memorial Day weekend near Traverse City, we would stop by Roquette Burger in Charlevoix for a Bacon-Jam Burger on the way home. We imagined ourselves snickering at the cookie cutter burger chains smearing pass our windows on the return trip to Ann Arbor.
We arrived at Roquette Burger, sunburned and starving. What? Closed?! Their Facebook page revealed why:
"Our apologizes to all who came by today and discovered we were closed. It is not something we like to do, but the busy holiday weekend obliterated our beef supply and our closest supplier is out at the moment. So here was our dilemma: 1. We could have gone to our local grocery store, bought off shelf, and flat out lied to you, our guest, about the origin of the product. 2. We could have gone to a local butcher and though the product would have been freshly ground locally, the ambiguous origin of the beef would again have to be concealed. 3. We close for the day, pack up the family, and drive to Gaylord to see our friends at Cook's Family Farm for their grass fed beef they raise humanely and responsibly. We let our conscience guide us. We open tomorrow at 8..."
Alas, our itinerary doesn't allow sharing their tomorrow. But all is forgiven these burgers of integrity, and I created a knock-off based on ingredients listed in the magazine. Imitation, after all, is the sincerest form of flattery.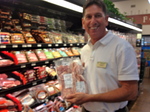 In keeping with this cafe's dedication to sourcing locally produced products, I did my best to procure Michigan ingredients as well. Arbor Farms sells a grass-fed grind from a nearby Michigan farm. Arbor Farms and Sparrow Meats both stock a Michigan-crafted bacon, and if you don't want to pull out the grill, consider frying your burgers in the bacon fat left from the pan drippings.
Avalon hamburger buns are made in Detroit, and Zingerman's sells an awesome burger bun made right here in Ann Arbor. The coup was finding a Michigan-made brie at the Produce Station.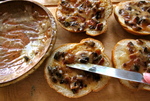 I haven't returned to Charlevoix to sink my teeth into the Roquet Burger original — and my chutney-based dressing may have yielded a significant flavor alteration. But boy oh boy, the burgers I concocted projected us through the galaxy.
Rich creamy brie enrobes the hot char of the patty, and smoky pieces of bacon marry sweet, tart chutney, which soak into the bun. Don't assume you'll have a better burger if you select a large fresh-baked artisan roll. Excessive bread, bite and chew will draw focus from the main event; the bun should be a soft-spoken canvas encasing the chef d'oeuvre.
Father's Day is this Sunday, and I'll betcha Dad would be tickled with a Bacon-Jam Burger. And yes, real men do eat brie.
Time: 45 minutes
Yield: 3-4 hefty burgers
Ingredients
2 teaspoons finely minced shallot or onion
1/2 pound lean ground bison
1/2 pound grass-fed ground beef (I used 85 percent; if using a leaner grind, the burgers are a bit more fragile on the grill)
1/4 teaspoon kosher salt
1/4 teaspoon freshly ground pepper
4 tablespoons savory fruit condiment*
3 tablespoons mayonnaise
2 slices bacon, fried and crumbled
3-4 hamburger buns, sliced horizontally if whole
1 fistful of arugula
4-5 ounces ripe brie, cut into thin slices
*Homemade jam or chutney is preferred. Or consider using a Petosky-produced American Spoons condiment, which uses fruit sourced in Michigan.
Directions
1. Prepare gas or charcoal grill to medium-high heat .
2. Combine shallot or onion, grinds, salt and pepper. Form into 3-4 patties, depending on how thick you prefer your burgers.
3. Oil grill grates and place burgers on grates. (Remember: the leaner the grind, the more fragile the burger.)
4. Grill 3-5 minutes on each side, or until desired doneness.
5. Meanwhile, combine the chutney and mayonnaise, stir in bacon, and spread on the cut side of each bun half. Arrange arugula and brie on buns and tuck burgers in-between.