Posted on
Fri, Dec 9, 2011 : 4:30 a.m.
Filet Mignon with Cranberry-Zinfandel Sauce is a festive holiday splurge
By Peggy Lampman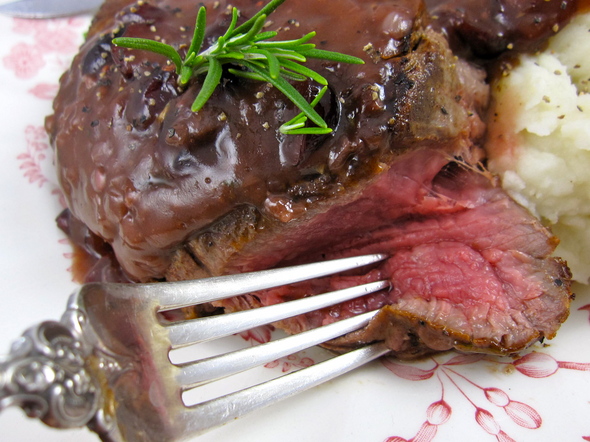 Peggy Lampman | Contributor

Here's a favorite splurge
recipe
, fairly simple to prepare and perfect for festive holiday dining.
Filet mignon translates from French to mean a "cute" or "dainty" tenderloin. The meat is an extremely tender, thick steak cut from the tenderloin, which lacks some of the flavor of meat that has the bone attached. In order to keep the flavor, you must cook the fillet quickly.
Purchasing beef tenderloin for filet mignon is confusing. If purchasing a less expensive, lower-grade tenderloin, you may consider marinating it 24 hours before preparing. Not so with the best cuts of beef. A top-grade, well-marbled, prime-cut tenderloin is at its pinnacle when cooked to rare or medium-rare.
Yield: 4 servings
Time for beef to rest (optional): 1 hour
Active Time: 30 minutes
Ingredients
4 ( 2-inch thick) beef tenderloin steaks (fillet mignon)
2 tablespoons grape seed or canola oil
2 tablespoons unsalted butter
1 tablespoon minced shallot
2 teaspoons minced garlic
1 cup plus 2 tablespoons Zinfandel wine
1/2 cup beef stock
1/2 cup cranberry juice
1/3 cup dried cranberries
1/2 teaspoon minced fresh rosemary, plus extra for garnish
2 teaspoons corn starch
Directions
1. Preheat oven to 325 degrees.
2. If time allows, let steaks rest at room temperature 1 hour before cooking. Line a baking sheet with parchment or foil. Liberally season both sides of beef with kosher salt and freshly ground pepper. Heat oil in a heavy-bottomed skillet until hot but not smoking. Add steaks to the skillet and sear on one side for 2-3 minutes, or until a crust forms. Flip steaks, add butter to pan, and sear an additional 2-3 minutes. Do not jiggle or move pan while searing so steaks may develop a crust.
3. Remove seared steaks from pan, reserving 2 tablespoons pan juices, then turn off heat on stove. Place seared steaks on baking sheet, on middle rack of oven, four to seven minutes, or until steaks are cooked to the desired level of doneness, 120-130 degrees for rare to medium rare*. Remove steaks from oven and tent with foil.
4. While steaks are in oven, make sauce by adding shallots and garlic to the reserved pan juices in skillet and sauté, stirring over medium heat, for 1 minute. Stir one cup of the wine, stock and cranberry juice into the pan. Over medium-high heat, reduce liquids to 3/4-1 cup.
5. Combine the cornstarch with the 2 remaining tablespoons of wine. Whisk the cornstarch-wine mixture, rosemary and cranberries into the reduced pan liquid and bring to a simmer for several minutes, whisking the sauce until it thickens adding salt and pepper to taste, if needed.
6. Spoon the sauce over the steaks, garnish with rosemary sprigs if desired, and serve.
* Cutting into the meat to check doneness lets precious juice escape. Use a meat thermometer or the touch method: Press the meat — if it feels soft and mushy and leaves an imprint, it is rare. If it is soft, but slightly resilient, it is medium-rare. The minute it begins to feel firm, it is overdone.

My new web site (packed with holiday recipes) has recently been launched. (www.dinnerFeed.com)! I'm a real-time food writer and photographer posting daily feeds on my website and in the Food & Drink section of Annarbor.com. You may also e-mail me at peggy@dinnerfeed.com.