Posted on
Wed, Jun 5, 2013 : 5:01 p.m.
Final results in the vote for the best burger in Washtenaw County
By Jessica Webster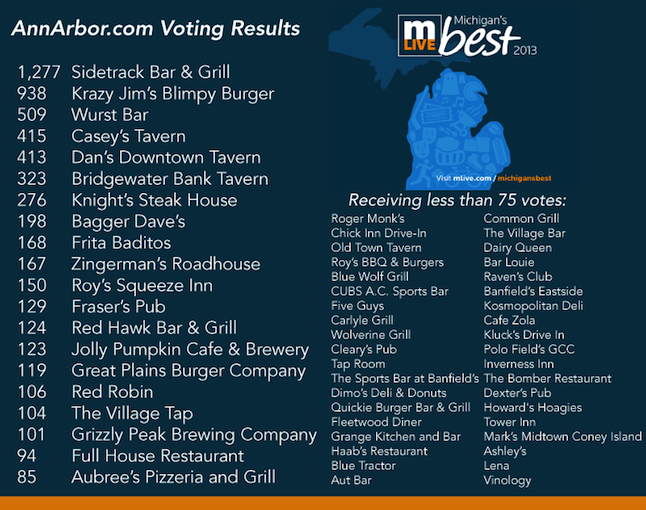 6,776 votes were cast for 58 burger restaurants in Ann Arbor, Ypsilanti and the surrounding areas. After six days of voting, the poll is closed, the votes are tallied, and Ypsilanti seems to reign supreme as the burger capital of Washtenaw County.
Ypsilanti's Sidetrack Bar & Grill took an early lead over Ann Arbor favorite Krazy Jim's Blimpy Burger in the vote and managed to hold that lead until the very end, winning with a respectable 1,277 votes cast. Blimpy Burger held on to a solid second-place finish with 938 votes.
The big surprise in this contest was the come-from-behind third-place finish for Ypsilanti's Wurst Bar. Until Tuesday afternoon, Casey's Tavern was enjoying a comfortable third-place perch, but Wurst Bar fans gave the restaurant a solid push on Tuesday and Wednesday that carried them across the finish line.
Now that we've determined the AnnArbor.com readers' choices for the best burgers in the area, we'll see how they stack up against the competition from across the state. MLive statewide entertainment reporter John Gonzalez will be stopping in Ann Arbor and Ypsilanti to sample some of our best burgers next Wednesday afternoon as he conducts his search for Michigan's Best Burger.
Jessica Webster leads the Food & Grocery section for AnnArbor.com, a part of the MLive Media Group. Reach her at JessicaWebster@annarbor.com. You also can follow her on Twitter or subscribe to AnnArbor.com's email newsletters.