Posted on
Fri, Mar 4, 2011 : 7 a.m.
First annual Michigan Good Food Film Festival announces winners
By Kim Bayer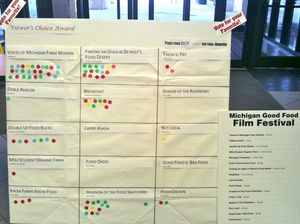 Contributor | Kim Bayer
If you're interested in the story of food, you've probably heard of Wendell Berry, who is often quoted for writing in The Pleasures of Eating that "eating takes place inescapably in the world… it is inescapably an agricultural act, and how we eat determines, to a considerable extent, how the world is used."
Much of Berry's writing is based on Sir Albert Howard's insight from the early 1900s that sees "the whole problem of health in soil, plant, animal, and man as one great subject."
Berry extends this principle in his own work to connect our relationships and their consequences in ways that are both straightforward and profound. The author of more than 40 books, Berry was honored on March 2 with the National Humanities Medal, bestowed by President Obama.
According to Berry "The passive American consumer, sitting down to a meal of pre-prepared food, confronts inert, anonymous substances that have been processed, dyed, breaded, sauced, gravied, ground, pulped, strained, blended, prettified, and sanitized beyond resemblance to any part of any creature that ever lived. The products of nature and agriculture have been made, to all appearances, the products of industry. Both eater and eaten are thus in exile from biological reality."
If that is a succinct description of bad food, the first annual Michigan Good Food Film Festival attempted to define good food on Feb. 28, two days prior to the ceremony honoring Berry. Taking place in the Towsley Auditorium at Washtenaw Community College, the short films screened demonstrated a variety of perspectives on the topic "What does good food mean to you?"
Subjects included a wordless yet lyrical preparation of breakfast, complete with bacon sizzling and waffles browning; alien "food snatchers" from outer space; a program that doubles food assistance benefits at farmers markets; and a documentary showing the lives, words and work of women farmers, the fastest growing farmer demographic in the country.
Three media industry judges, including filmmaker Chris Bedford, NPR host Jennifer White and chef and tv host Eric Villegas selected film winners for cash prizes. They selected winners including:
- "Double Up Food Bucks" from the Fair Food Network
- "Invasion of the Food Snatchers" by Mac Jermstrad and Pat Werksman from Grand Valley State University.
- "Finding an Oasis in Detroit's Food Desert" by WCC students Ian Mendel, Eric Hill, Derrick Porter, Martina Ashanti and Adam Funk.
- "Edible Avalon: rooted in the community" by local filmmakers A2Zoom.
In addition, the audience of about 100 people voted on their favorite film for the Viewer's Choice Award. The Viewer's Choice winner was "Voices of Michigan Farm Women" by Lansing resident Cynthia Vagnetti.
Filmmaker, writer and food activist Chris Bedford of Muskegon says of the experience "Judging the Michigan Good Food Film Festival reminded me how important the story of good food is to the local food revolution. The films I judged told great stories of care and innovation in highly effective and creative ways. If watching was to the key to believing in a different food future, that night a whole lot of us became believers."
Other titles screened included:
- Breakfast
- Buy Local
- Food Fest Test
- Food Oases
- Fresh vs. Fat
- Good Food vs. Bad Food
- Home Grown
- Know Farms Know Food
- Michigan Foodways
- MSU Student Organic Farm
- The Season of the Raspberry
Kim Bayer is a freelance writer and culinary researcher. Email her at kimbayer@gmail.com.