Posted on
Fri, Dec 31, 2010 : 6 a.m.
Five fabulous favorite foods found in Ann Arbor
By Mary Bilyeu

Everyone seems to be coming up with lists at the end of the year — of resolutions, of places to travel to, etc. They also share lists of their favorite things. I'm not usually the kind of lemming who jumps onto a trend; however, I did eat some exceptional food this year (some I made myself, some that others made for me).
And so, in no particular order — 'cause I had enough trouble making the decisions about what to include on the list, let alone having to decide which was incrementally better than another! — here are my five favorite Ann Arbor foods from 2010: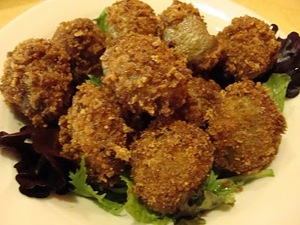 Mary Bilyeu, Contributor
Olives all'Ascolana (fried stuffed green olives) at Silvio's Organic Pizza. Fresh and hot from the oil, fragrant, crispy, tender, salty, juicy and utterly unique, these little tidbits were a fabulous treat! You could very possibly devour platesful of the addictive little things before you realized you'd overdone it. Fortunely they're served only by the dozen, so that you don't have to worry about excess. But no one said you couldn't order another round ....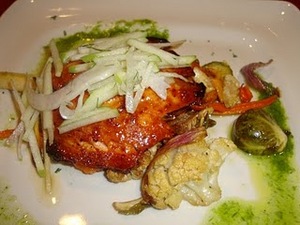 Mary Bilyeu, Contributor
The maple-glazed salmon from Tom's birthday lunch at The Real Seafood Company. It was sweet, it was tender, it was flaky, and it didn't have the raw center that many trendy chefs pass off as "rare." (If I want sushi I'll order sushi; and since I don't like sushi, I never order sushi!) The salmon was cooked to absolute perfection. That it was served along with fennel (one of my very favorite foods) that paired perfectly in a slaw along with green apple strips and was accompanied by tender-crisp roasted vegetables only made it more delicious. The pumpkin cheesecake served for dessert was lovely, but the salmon was absolutely the star of my meal. This plate was vibrant and colorful and nutritious, but it gave every impression of being truly decadent.
Mary Bilyeu, Contributor
The Mexican chocolate loaf cake baked by the River Street Bakery and bought at the Ypsilanti Food Co-Op. This "cake baby," as Tom and I called it as we lovingly cradled it to make sure it didn't get mushed (since it was so tender), was an intensely deep, dark chocolate cake with a thin chocolate glaze ... after all, who can have too much chocolate? When we first took tiny tastes of it, we thought it was rich and delicious; we were also very impressed at how moist it was, given that the cake is vegan. As the flavors lingered on our tongues and we compulsively consumed more and more of it with no ability to resist, the hints of cinnamon and cayenne started to shine through. There was nothing too spicy or overpowering, merely chocolate paired with perfect complements that danced together in unison.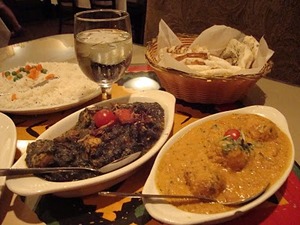 Mary Bilyeu, Contributor
Shalimar, where Tom's and my favorite meal is Murgh Saagwala (chicken with spinach), Dumm Aloo (potatoes in a spiced tomato-yogurt sauce), and, of course, the assorted naan. Yes, I should be picking one of those items and featuring it; but read my last Food Floozie post about this amazing restaurant — how could I ever possibly choose just one item, when the entire place is one great big "favorite"? Tom and I ate dinner at Shalimar on our first date ... it has tremendous sentimental value to me, in addition to extraordinary and luscious food. The ambience is sophisticated and romantic, the service is professionally polite rather than effusive, and the food is perfectly spiced and prepared exquisitely. Thus, this entire meal constitutes a favorite rather than any individual item ... no further explanation needed!
Love Bugs from Decadent Delight, which are kinda sorta reminiscent of Twinkies. But they are Twinkies not on steroids, but rather Twinkies which have gone to finishing school to acquire some sophistication. These treats are not just adorable and a perfect size to share with someone you love. They are tender, flavorful cakes frosted and coated with any number of tempting options, enrobing pastry cream or chocolate or Jeremy's personal favorite: a passion fruit filling that could easily just be eaten with a spoon without any other flavors or textures intruding upon the sensual experience. Everything I've ever eaten at Decadent Delight — from tarts to cookies to cakes to cinnamon rolls — is absolutely swoon-inducing.
My list could have gone on and on and on …. It had to be culled, I'm sorry to say. I'm just grateful to live in a town where I can eat such amazing things and have virtually any food whim satisfied!
Tell me: what were some of the best things YOU ate this year??? I'd love to try them!
Here's to more amazing meals and treats in 2011 ….

Mary Bilyeu has won or placed in more than 60 cooking contests and writes about her adventures in the kitchen. The phrase "You Should Only Be Happy" (written in Hebrew on the stone pictured next to the blog's title) comes from Deuteronomy 16:15 and is a wish for all her readers as they cook along with her ... may you always be happy here. Check out her blog — Food Floozie — in which she cooks, reviews restaurants and generally enthuses and effuses over all things food-related. Or send an email to yentamary@gmail.com.