Posted on
Thu, Nov 10, 2011 : 11:27 a.m.
Flourless chocolate cake with raspberry ripple ice cream
By Jessica Webster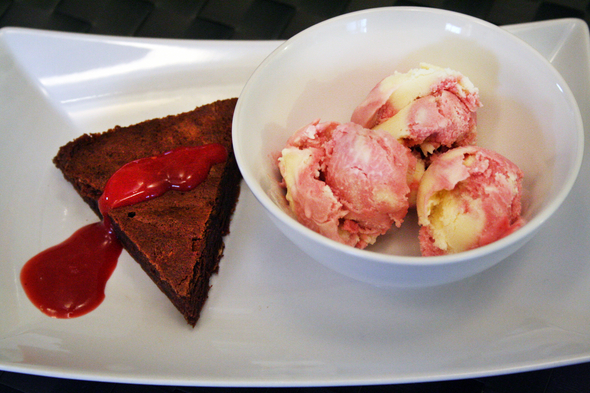 Jessica Webster | AnnArbor.com
Getting together with friends to share a meal is one of the great pleasures of life. Good food and conversation can't be beat. It's especially fun to get together with friends who are as food and wine-oriented as we tend to be. We try new recipes on each other, and work hard to pair them up with the perfect wines.
We had a get-together of this type recently, with friends who spend a lot of time in New York and share our appreciation of the food dreamed up by celebrity chef David Chang. Our friends were attempting one of David Chang's intimidating recipes and asked us to bring dessert.
I approached this assignment with trepidation. As any regular viewer of Top Chef knows, it's the desserts that can mess you up, and our friends are foodies with a capital F. Grabbing a pint of our favorite ice cream wasn't an option.
I went around and around on this dessert decision. It had to be portable. It had to be kid-friendly. Two members of their family are gluten-intolerant, so it needed to be gluten free. I spent an inordinate amount of time looking for recipes by David Chang's pastry chef, but ended up discarding them all because they were either flour-based or decidedly not kid-friendly.
In the end, I was rescued by a southeast Michigan food blogger whose food and life exploits I've been following for years on her SimmerDownFood.com blog. Noelle Lothamer has a fun way of writing about food, and helpfully walks her readers through each step of her recipes.
Here is Noelle's flourless chocolate cake recipe, which she adapted from the "France the Beautiful Cookbook." She suggests pairing it with Nigella Lawson's raspberry ripple ice cream, and I agree. They play off each other quite well.
Despite the blog's excellent instructions, I managed to ruin the first attempt at this cake. Trying to be gentle with the egg whites, I under-mixed the batter. The egg whites rose beautifully … to the point of overflowing the cake pan and lining the floor of my oven. What was that horrible burning smell? That was my cake.
So learn from my mistake: gently fold chocolate into the egg whites, but do make sure the whites are completely incorporated and no white remains. Your oven will thank you.
Flourless Chocolate Cake courtesy of Noelle Lothamer
7 ounces best quality bittersweet chocolate
7 ounces unsalted butter
1 cup sugar, divided
4 eggs, separated

Directions: Preheat the oven to 375 degrees. Butter an 8-inch round cake pan. Melt the chocolate and butter in a double boiler. Set aside to cool.
While the chocolate is melting, separate the eggs, putting the whites in a clean, grease-free metal bowl if you have one (I use my stand mixer. Whisk the yolks with half the sugar (you can do this by hand) until mixture becomes pale in color. Then whip the whites, gradually adding in the rest of the sugar, until glossy and forming stiff peaks.
Once the chocolate has cooled, stir in the egg yolks. Take a large dollop of the egg white and beat it into the chocolate to lighten the mixture. Gently fold the chocolate into the egg whites until completely incorporated and no white remains.
Pour the batter into the prepared pan and bake for 40 minutes or until a tester comes out clean. Let cool on a rack. The cake will fall considerably, but that doesn't affect the flavor! If you want to decorate it, you can turn it out on a plate so the flat side is on top and cover with ganache or use a stencil and powdered sugar to do a design.
Raspberry Ripple Ice Cream (adapted from Forever Summer by Nigella Lawson)
1 cup heavy cream
1 1/2 cups half and half
6 egg yolks
3/4 cup sugar
1 1/4 cups raspberries
1 1/2 teaspoons best quality balsamic vinegar
Whisk together egg yolks and 1/2 cup sugar. Heat the cream and half and half until almost boiling, then pour the hot cream into the egg mixture, whisking. Return to the stove over medium-low heat and cook, stirring frequently, until the custard thickens. Let cool, and freeze in an ice cream maker according to instructions.
Make the raspberry sauce by putting the raspberries, balsamic and remaining 1/4 cup sugar in a blender and pureeing until smooth. (The balsamic may seem like an odd ingredient, but it really amps up the raspberry flavor.) If desired, put through a fine-mesh strainer to remove the seeds.
When the ice cream is almost frozen but still soft enough to stir, put it into a container a little at a time in layers, drizzling the raspberry sauce in as you go. Use a skewer to swirl the sauce through the ice cream. Freeze for another 1-2 hours until firm. I made extra raspberry sauce to drizzle over the top of the cake.
Jessica Webster leads the Food & Grocery section for AnnArbor.com. You can reach her at JessicaWebster@AnnArbor.com.