Posted on
Thu, Jun 27, 2013 : 5:15 p.m.
Foil packet grilled potatoes - a quick, easy and flavorful summer side
By Jessica Webster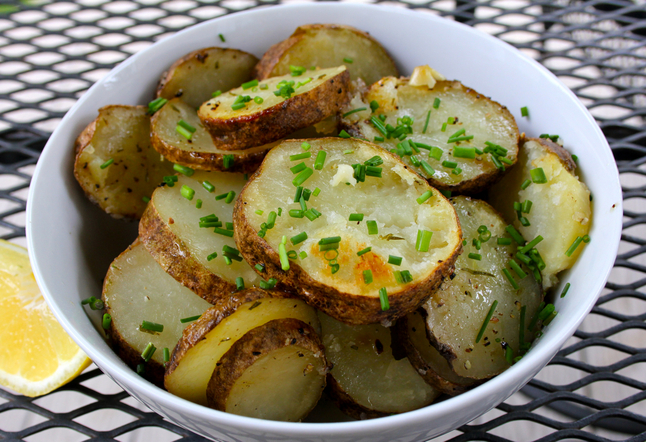 Jessica Webster | AnnArbor.com
A friend recently opined that everyone is a cook in the summer. With the ease of
grill cooking
and the availability of delicious fresh produce, even those among us with the least amount of interest in culinary adventures are busy throwing together home cooked dinners this time of year.
The other side of that, of course, is that summer is also when we all turn into outdoor adventurers. Winter couch potatoes suddenly find themselves out on the river in kayaks or blazing through the bike trails in the summer.
We've all got the desire and resources to cook amazing summer dinners. But who has the time?
I love that I can throw a burger or a piece of chicken on the grill with just some salt and pepper or a quick marinade and have some delicious food without much thought — and without heating up my kitchen. But what do I serve with it when I am in a hurry? When I've planned it all out in advance, when I've got the time, when I'm not running from swim practice to summer camps to a social obligation, I'll work out a chilled vegetable soup or a healthy quinoa and herb salad.
But what about those nights when we're trying to grab a quick meal at home in between things? Burgers and some grilled asparagus and … ?
I put the question to friends and followers on social media and got some excellent suggestions: Jalapeno coleslaw with blue cheese, tzatziki, confetti salad. All delicious; all requiring more advance preparation than I was looking for. I wanted something I could throw together while my meat and veggies were grilling.
When I finally got the suggestion that fit the bill, I was almost embarrassed at the simplicity of the recipe. Potatoes wrapped in foil and tossed on the grill. That's about as basic as it gets, right?
Sometimes basic is perfect. I scrubbed a couple of baking potatoes, sliced them — skin on — into 1/2 - inch rounds, and tossed them into a bowl with some salt, pepper, skin-on garlic cloves, rosemary from my garden, and olive oil. I then wrapped them all up in aluminum foil and set them on direct heat on my gas grill. Twenty minutes later, I had potatoes so creamy and delicious that even my 11-year-old was asking for more.
And now I want to hear from you. What is your favorite easy summer side?
Foil Pouch Grilled Potatoes With Garlic and Rosemary - adapted from a recipe by Martha Stewart
Ingredients
2 baking potatoes with skin on, scrubbed clean
4 garlic cloves, skin on
2 tablespoons extra-virgin olive oil
Coarse sea salt and freshly ground pepper
4 whole sprigs fresh rosemary, plus 1 tablespoon minced fresh rosemary
Lemon wedges, for serving

Directions
Slice potatoes into 1/2 -inch discs. Toss the potatoes, rosemary and garlic in a bowl with the olive oil. Season with salt and pepper.
Divide potatoes, rosemary and garlic between two large double layers of foil; fold foil around potatoes and crimp edges to form packets. Grill directly over heat source, flipping packet every 5 minutes or so, until potatoes are tender, 20 to 25 minutes.
Transfer potatoes to a serving bowl. Carefully slip the roasted garlic cloves out the skins and chop. Return the chopped garlic to the bowl and toss with the potatoes. Season to taste with more salt and pepper if necessary, and serve with lemon wedges.
Serves 2-4 as a side.
Jessica Webster leads the Food & Grocery section for AnnArbor.com, a part of the MLive Media Group. Reach her at JessicaWebster@annarbor.com. You also can follow her on Twitter or subscribe to AnnArbor.com's email newsletters.