Food activists gather in Kerrytown to kick off Local Food Summit
Posted on Tue, Mar 2, 2010 : 3 p.m.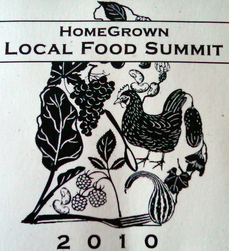 Movers and shakers from Ann Arbor's local food movement gathered at Eve on Monday night for a mixer and preview of today's HomeGrown Local Food Summit. The scene was jubilant and electric, as farmers, chefs, merchants and advocates rubbed elbows and exchanged ideas over wine from Cherry Creek winery and delicious food from Eve Aronoff's kitchen.
Bill Taylor and Scott Aikens, whose Eat Local Eat Natural business was designed to match local farmers with local restaurants and businesses, were busy making connections. "Hey John! Mill Pond Bread is looking for local grains, right? I just found a farmer you need to meet!"
Jennifer Kangas, who raises goats on Capella Farm in Ann Arbor, discussed the need for a nearby (or, better yet, mobile) USDA-sanctioned slaughter facility with Mike Vestergaard, who recently purchased the Frederick Farm on Wagner Road in Ann Arbor to raise grass-fed cattle. Vestergaard, in turn, wondered aloud: "My cattle will be grass-fed and naturally raised. Is that enough? Or will I need to pay to be certified organic? Are people looking for local and humane, or do they need that organic label too?"
Also spotted was Grace Potts, director of the Garden Project at St. Francis Church, which grows organic produce for area needy; Realtor and Ann Arbor City Council member Sandi Smith; Jeff McCabe and Lisa Gottlieb, local food activists and founders of Friday Mornings@Â SELMA; Chef Brandon Johns of Grange Kitchen and Bar; Missy Orge, Director of Outreach and Training for Food Gatherers; representatives from Growing Hope; Kim Bayer of Slow Food Huron Valley; and Mike Perini, host of Pandora's Lunchbox on WCBN.
The Local Food Summit continues today in the Dana Building on campus, where the discussions that started last night will continue in breakout sessions and committees. The goal of this summit is to work toward The 10% Campaign - a push to increase the percentage of locally-grown food in Washtenaw County. Today, county residents source less than 1 percent of the food they eat locally, but organizers hope that their efforts will be able to increase that to 10 percent, resulting in over $90 million "in new direct economic activity."
Jessica Webster oversees Food & Drink coverage on the Community Team at AnnArbor.com. Contact her at jessicawebster@annarbor.com.