Posted on
Tue, Jan 8, 2013 : 1:01 p.m.
Food and Farming Innovation Network Breakfast Forum developing out of the Food System Economic Partnership
By Kim Bayer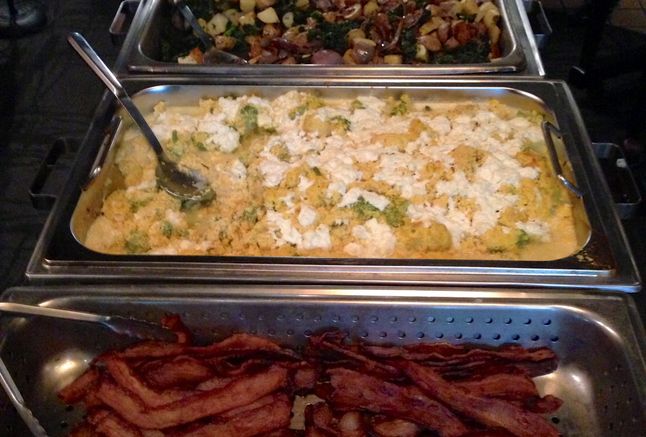 Photo by Jeri Stroupe
If you're a business owner or technology entrepreneur in this town there are more associations, organizations and networking events than you can shake a stick at to help you grow your company. But if you're a farmer you've got….the Farm Bureau? And now, the Food System Economic Partnership (FSEP, of which I am a board member) and their Food and Farming Innovation Network Monthly Breakfast Forum.
Jane Bush, FSEP business development specialist, says she started the breakfast forum to have "a consistent social network around the local food system, like bankers or manufacturers have for their industries." These breakfasts, generously hosted by The Raven's Club in downtown Ann Arbor, contribute to FSEP's mission to "stimulate and support change in the food system of our region by working with and developing opportunities for the entrepreneurial community."
All are welcome to attend on the first Monday of the month. Along with the speaker and networking, a delicious meal, cooked by Chef Dan Vernia, is available for a suggested donation of $10. January's menu included eggs scrambled with cheese, broccoli and cauliflower; crispy bacon; roasted potatoes, rutabaga and kale; with cardamom coffee cake and cranberry white chocolate scones and pots of Mighty Good Coffee. It might be the tastiest breakfast in town. Food (and beverage!) contributions come from local businesses like Mighty Good Coffee, Calder Dairy, Tantre Farm, Oh Dear Bakery, Arbor Teas, and Appleschram.
Speakers at the breakfast forum so far have included Dan Carmody in December discussing Detroit's "Healthy Metropolitan Food Hub" at the Eastern Market. This week Professor Jason Rowntree, a farmer in Lake City, Michigan (and Assistant Professor of Beef and Cattle Forage Utilization at Michigan State University) spoke on being a "net producer of ecosystem services" through Pasture-based Meat Production.
One young farmer in attendance at the talk, Taik Fountaine, 29, recently bought 10 acres of land with his partner Stephanie Willette for their Two Tracks Acres meat CSA in Grass Lake, Michigan. He says the discussion of the cascading benefits of raising animals on grass-based pasture helped him envision what he wants to do with his farm. He says, "It's a plus-plus for our farm because not only is grass a 'free' food for the animals, grass-based pasturing helps with soil inputs and healthier land."
Not only is soil healthier, FSEP board member and Huron River Watershed researcher Debi Weiker notes that grass-based pasturing of animals also doesn't pollute water systems and is "what we should be striving for." In the current system of concentrated animal feeding operations, huge amounts of manure kept in large lagoons often becomes a hazardous water pollutant rather than a useful soil amendment. Weiker says grass-based pasturing "is really the difference between taking an ecosystem approach rather than a consumerist approach of using up existing resources."
At the close of his talk Jason Rowntree summarizes: "What I'm working on is a system that is one of resilience, and that includes getting a paycheck every month…I'm trying to have forage and cattle, along with pigs, chickens and tourism to be able to sell something every month. If I let nutrients go, eventually I'm going to have to reach into my back pocket to pay for it. Part of it is getting every piece of the animal utilized. That's the farm of the future."
He concludes, "If we look to the government to solve the issues we have with food and farming it's gonna take a long, long time. We have to be proactive to do what we know is right — get our hands dirty and let's roll."
Upcoming Food and Farming Innovation Network Topics include:
February - Season extension and hoop house tours
March - Irrigation and water conservation
April - Pest management
May - Paul Thompson, WK Kellogg Chair in Agricultural, Food and Community Ethics
Kim Bayer is a freelance writer and culinary researcher. Email her at kimbayer at gmail dot com.