Posted on
Tue, Jun 4, 2013 : 8 a.m.
Food Gatherers' marks '24-Carrot Year' with Grillin' event June 9
By Kim Bayer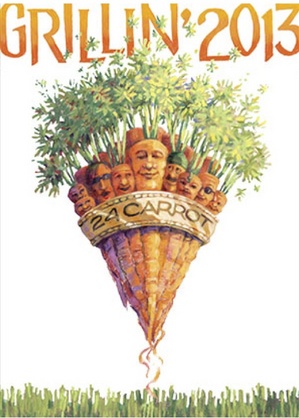 Graphic from Food Gatherers website
"The outrage of hunger amidst plenty will never be solved by 'experts' somewhere. It will only be solved when people like you and me decide to act." - Frances Moore Lappe
With a state-of-the-art expansion that will nearly double their warehouse space and hugely increase the amount of protein and fresh produce they can handle, Food Gatherers is at the forefront of systemic solutions to hunger for nearly 50,000 people in Washtenaw County.
For the ninth year in a row, Food Gatherers' exceptional fiscal management practices and commitment to accountability and transparency have earned the nonprofit the highest rating by an independent charity evaluator. The new evaluation makes Food Gatherers the highest rated food bank in Michigan, and among the top 15 food banks in the nation.
In recognition of the two dozen years of work that has led to these gold-plated credentials, they're calling this year's Grillin' fundraiser their "24-Carrot Year."
Even with the accolades, the impact, and a volunteer force that is 5,000 people strong, private donations to Food Gatherers fell in 2012 for the first time in its 24 year history. Chalk it up to Governor Snyder's removal of Michigan's charitable tax credit that was supposed to save $35 million in the state's budget, but "which state officials estimated had (previously) generated nearly $100 million in charitable contributions."
For Food Gatherers' CEO Eileen Spring, the first-ever drop in decades of private donations raises the possibility of a scary trend. She says, "We're on the brink of this expansion, looking to do more not less, and have counted on a stable supply of private donations. We have never gotten a lot of government dollars, but now our partner agencies have all been cut. When you're trying to plan ahead and make meaningful investments that you can sustain, the timing of it is challenging."
The current economic situation makes this year's Grillin fundraiser, coming up Sunday, June 9 from 3-8 p.m. one of the best ways to contribute to Food Gatherers' incredible work. The $50 Grillin' ticket "provides over 100 meals for our neighbors in need" they say, and it provides you with an afternoon of entertainment and deliciousness at the best picnic you've ever attended.
It's an incredible spectacle, with acres of grills all going at once, and all-star donations of food from local restaurants like Zingerman's, Grange Kitchen and Bar, Bona Sera, Frita Batidos and more; fun kid activities from the Hands On Museum; rockin' music featuring the amazing George Bedard and the Kingpins; and a silent auction to rival anything that Sotheby's has to offer. This year's silent auction is reported to be among the most inspired ever assembled for this event, and includes:
Silent Auction Highlights
Ski or snowboard passes at Crystal Mountain Resort & Spa
Detroit Tigers tickets with access pass to the Tiger Den
Season tickets to Michigan Men's Basketball
Customized dinner for eight in your home from James Beard Award-winning Chef Alex Young of Zingerman's Roadhouse
Private pool party for up to 24 children at Goldfish Swim School in Ann Arbor
Design your own deli sandwich to be featured at Zingerman's Deli
Go brew! Enjoy a private three-hour party with one round of beer for as many as 60 people in the Gulo Room at Wolverine State Brewing Co. Feast on delicious pulled pork sandwiches, coleslaw, and cornbread from Satchel's BBQ.
What a getaway! The winner of this package will receive a one week stay at a cozy three bedroom/two bathroom cabin on Lake Michigan's Beaver Island.
Gift package from The Brinery, made for Grillin's 24-Carrot Year, which includes certificate for entry to a Brinery workshop, admission for two to a Brinery pop-up dinner, certificates for products and merchandise, and more!
Four tickets plus parking pass to the UM v. Notre Dame football game Under the Lights
Enjoy a delicious taste of "100% Puro Mexico" with the chef's tasting menu at Isalita
Custom gourmet dinner for up to seven in your home by Monique Deschaine, owner of Al Dente Pasta and Misty Callies, local chef and co-founder of Zanzibar
Grillin' - Sunday, June 9, 2013 from 3-8 p.m.
Location: Washtenaw Farm Council Grounds, 5055 Ann Arbor-Saline Road
Tickets
Kim Bayer is a freelance writer and culinary researcher. Email her at kimbayer at gmail dot com.