Posted on
Mon, May 28, 2012 : 9 a.m.
Food Gatherers delivers healthy food and food security in Washtenaw County
By Kim Bayer
Photo | Courtesy of Food Gatherers
Food security, at the global, national, regional and individual level is a hot topic these days. At the global level, the BBC reports in "Nations need food security goals" that in advance of the United Nations Conference on Sustainable Development this June in Rio, "scientists are calling for an improved commitment to deliver nutrition security and lessen the need to aid" as part of a comprehensive strategy to deal with environmental degradation and climate change.
A recent W.K. Kellogg Food and Community Survey in the U.S. on fresh produce access and equity finds "93 percent of people surveyed say it's very important or somewhat important that all Americans have equal access to fresh fruits and vegetables."
And "three-quarters of Americans support a nationwide program to double the value of SNAP benefits (formerly food stamps) when used at farmers markets," aka Double Up Food Bucks in Michigan.
That kind of overwhelming support sounds like a mandate for making healthy food a human right. But even in relatively wealthy Washtenaw County, one out of every seven adult residents and one out of every six children doesn't have enough to eat, let alone food that supports robust health.
In fact, a 2008 study by Food Gatherers demonstrated that, for people using emergency food assistance, "less than 13 percent of the people served by our emergency food network ate the recommended servings of fruits and vegetables." Chronic diet-related disease, like obesity, high blood pressure and diabetes can result and exacerbate an already difficult situation.
Food Gatherers, Washtenaw County's food bank and food rescue organization "exists to alleviate hunger and eliminate its causes." They deliver more than 5 million pounds of food a year to people in need, and, over the past few years, they have embarked on innovative strategies to do more than just fill hungry bellies. They are working on new distribution approaches, growing initiatives and purchase agreements with local farms to provide the most nutritionally valuable food to our most vulnerable populations.
Food Gatherers Executive Director Eileen Spring says, "Poverty is really the root cause of hunger, and there are multiple reasons for that." For the past 20 years, Food Gatherers has consistently and strategically partnered and innovated to find ways to beat both hunger and poverty. Their latest initiatives to attack the root causes of hunger are focused on providing the most nutritionally valuable food — produce and protein — in order to support health and give people in need more than just one more day of survival.
Food Gatherers background

In Portland, you're supposed to put a bird on it; in Ann Arbor, it's probably got a carrot on it. And when there's a carrot, there's likely a connection to Food Gatherers. Their trucks, hats, posters, building entrance — even baby onesies — are emblazoned with carrots.
They say, "Carrots are Food Gatherers' unofficial logo. Can you think of an item of food that lasts longer, is as nutritious, or is anywhere near as cute as a carrot?" Carrots are handsome, long-lasting and deep-rooted. But I suspect that Food Gatherers' beloved carrot emblem has just as much to do with (Zingerman's founder) Paul Saginaw dressing up in a carrot suit to recruit executive director Eileen Spring almost 20 years ago than with any of those other attributes.
In the 1980s, Zingerman's founded (and has since been a major supporter of) Food Gatherers. Led for the past 18 years by Eileen Spring, Food Gatherers' has grown into a food rescue and innovation powerhouse, whose more than 20 employees and 6,000 volunteers work to procure and then distribute food either for free or very inexpensively to more than 150 nonprofit partners in Washtenaw County. Starting with 2,400 pounds of food a year in 1988, to more than 5 million pounds a year now, Food Gatherers helps provide meals to nearly 45,000 hungry people each year.
Hunger in Washtenaw County

According to a 2010 Hunger in America report, among Michigan's 1.3 million people facing hunger 75 percent have incomes below the federal poverty level and 15 percent are homeless, although 34 percent of households include at least one employed adult. And 38 percent of the people in households facing hunger are children under 18 years old.
For many, circumstances in the economic downturn have become dire. Rather than using food assistance on just an emergency basis, Spring observes that "people are accessing pantries as part of basic, ongoing survival." And over the past several years, Food Gatherers and their partners have seen staggering increases in the number of people needing food assistance.
Seeing their mission as larger than just providing boxes of shelf-stable food out of their warehouse, they also run a job training program for at-risk youth and a community kitchen. And recognizing that climbing out of poverty is all but impossible without health, they have embarked on a multi-faceted approach to change the make-up of the food they deliver so that it now includes nearly 2 million pounds of fresh produce.
Food Gatherers Food Security Plan - increase fresh produce and protein

Commodity crop subsidies for wheat but not vegetables mean that "often people can afford to buy bread, but not produce."
Spring says, "It makes a difference for Food Gatherers if what we're doing is a daily part of people's diet. It doesn't mean we rescue every bagel… If we could figure out a way to make bagels into structures, we could probably end homelessness. We could triple the poundage but still not be addressing opportunities to make sure people get not just food, but food that is nutritionally valuable to them."
So in 2009 Food Gatherers began work on a new Food Security Plan and a main strategic priority to increase the quantity and quality of nutrient dense food available for people in need.
Describing the 2009 Food Gatherers' Food Security Plan Spring says "Our goal is for 50 percent of our food annually to be produce (fruits and vegetables) or protein (including dairy)."
A month before their fiscal year closes in 2012, Food Gatherers has reached its goal of 1,900,000 pounds of produce and protein, which turns out to be a "72 percent increase in pounds of produce and 86 percent increase in pounds of protein distributed since the Food Security Plan was put in action."
Spring says their focus on increasing the amount of produce and protein "is more expensive, harder, and the traditional network doesn't have the capacity for refrigeration that's needed. Our new priorities mean we have to change our processes strategically, invest in the capacity for distribution and raise more funds to purchase or procure more nutritionally valuable food differently."
Making additional tons of fresh produce available has meant a number of changes in Food Gatherers' procurement and distribution processes, which now include several "growing initiatives" and pilot projects for produce-only distributions.
Growing initiatives

In 2009 Food Gatherers plowed its first "Gathering Farm" field, using a little less than an acre of its own property to grow mostly sturdy, long-keeping vegetables. Between 2009-2011 the Gathering Farm produced nearly 58,000 pounds of food. This year, farmer Dan Calderone will grow kale, collards, cabbage, broccoli, carrots, beets, melons, leeks, peppers, squash and tomatoes.
For the past several years, Food Gatherers has been the recipient of beautiful, just-picked produce grown by inmates in the horticulture program at the Women's Huron Valley Correctional Facility in Ypsilanti. Although the prisoners themselves don't have access to fresh produce in their own meals, last year, the women in the program donated more than 12,000 pounds of freshest vegetables imaginable from their half-acre of raised bed gardens.
The Faith and Food initiative, a "planned growing" partnership with the Interfaith Council for Peace and Justice also launched four years ago. The project now counts 30 congregations tending gardens growing what Food Gatherers needs. Between 2009-2011 those 30 gardens produced about 25,000 pounds of food.
In addition, Edible Avalon gardens for Avalon Housing residents, funded in part by Food Gatherers, have grown nearly 6,500 pounds of food. And any member of the community can participate in the Plant-a-Row project to donate fresh vegetables from the garden.
Eileen Spring notes that "moving the community from random acts of gardening to more thoughtful and intentional food donation" greatly helps in both their planning and resource allocation.
Planned purchasing and procurement - Supporting local farms

In addition to their growing initiatives to increase the amount of produce, Food Gatherers also works to contract with and purchase directly from local farms.
Among the newest of these planned procurement projects, Food Gatherers is working with the Tilian Farm Development Center, which currently houses six new farmers starting up their own businesses.
Eileen Spring says, "We have budgeted approximately $3,000 to purchase veggies from Tilian, most likely via their hoop houses later in the fall. We do as much local purchasing as we can, because Food Gatherers understands that a vibrant local food system is critical to our community's well-being. Since Tilian is a start-up and is a nonprofit committed to helping expand local farms, we felt it was both a good short term and long term investment to support their program. And of course, they are just down the road from us."
Participating in the Michigan Farm to Food Bank project, Food Gatherers' contracts with Ruhlig's Farm in Carleton to grow large-scale quantities of things like carrots, of course, as well as potatoes, collards and squash. The program uses private funding via the the Food Bank Council of Michigan to match with Food Gatherers' dollars to pay the farmer an agreed upon price per pound. Eileen Spring notes that Food Gatherers has had difficulty finding farms close by with the scale and diversity to be able to ramp up the supply of produce they need.
New distribution models - Food Gatherers' produce distribution

To get more produce to the people, Food Gatherers is changing some of their distribution strategies. In addition to their traditional drop-offs at partner agencies, they are piloting what they call "choice model" produce distribution. Coming with staff and a truck loaded with mountains of produce, Food Gatherers sets up what amounts to a small grocery at one of their partner locations, for example at Catholic Social Services. People come and fill their own grocery bags with what they want, rather than being given a box of items that they may or may not use.
Once a week from May through October, the Food Gatherers truck rolls into Catholic Social Services around 2:30 p.m. Outside on a sunny day, people have been lining up since two o'clock for a food distribution that won't start until 4 p.m.. When I arrive at 3:30, Food Gatherers staff member and dietician Nicole Miller is handing out numbers as people arrive to take their place and receive grocery bags to fill. Nearly all the food is fruits and vegetables, and all of it is free.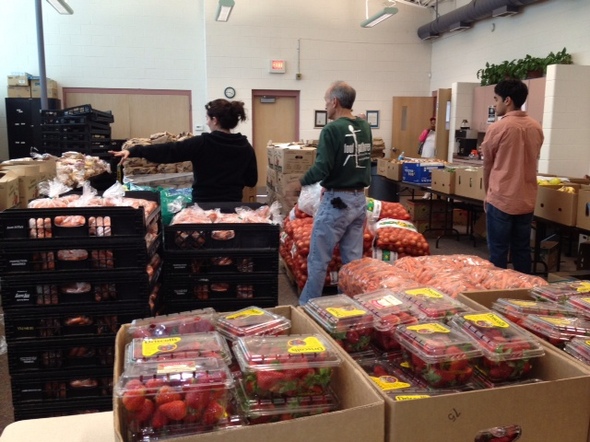 Photo | Kim Bayer
Miller says the truck is always loaded with the "Hard Seven," food bank speak for a list of sturdy, desired items always in stock: carrots, apples, potatoes, cabbages, onions, sweet potatoes and oranges. Much of the food is donated by area grocery stores, such as Plum Market, Whole Foods, Trader Joe's, Kroger and Busch's. Along with huge quantities of the "Hard Seven," today there also things like strawberries or raspberries, tomatoes, mushrooms, greens and plenty of bread.
Seven or eight family groups at a time are invited to come in to choose what they would like. One woman I talk to, Mary, says that although she is on disability and her husband works, they don't have enough income to cover their expenses. She says what's happening in the economy reminds her of the Great Depression "where people in the middle class don't make enough to afford to eat without a food bank."
She says she felt "shamed to begin with, but here they treat you with dignity, love and kindness." She says, "Nicole and the people here are awesome. I feel blessed to have found a place like this."
Nicole Miller says they have been seeing increased numbers of people coming to the produce distributions every week. At Catholic Social Services, they are up to more than 100 households per week at the regular distribution, and every week there have been five to 10 additional households.
While I am there I see people in every age range and from many different backgrounds represented, from toddlers with their mothers to elderly people in wheelchairs. They are people I see passing by every day. And it reminds me of something else Mary said: "I am your neighbor."
What to do?

Most of us do not directly confront the pain of hunger and poverty. But it says something about who we are as a society that our culture with so much allows so many to live with so little. As Americans, we have the right to bear arms but not the right to adequate, healthy food. When I ask Eileen Spring what motivates people to take action in solving an overwhelmingly complex issue like hunger she replies:
"I'm thinking that what we need to do is find the things that people doing food system work can all agree on...I think that in places like the charitable food system, stakeholders such as economic development, farmers, and institutions that serve people — there are a couple things that all of those folks could hone in on. Like:

- Food as a basic human right.

- Acknowledging there is a deep connection between food and health. The charitable food system has been a little slow to take action on that, in school lunch, and other government programs, but we're catching up to that realization finally.

- One of the ironies I see is that often the people who produce food not are not able to afford to buy it. For example, the employees of some of the largest food chain stores are often likely to be people going to food pantries, and their kids to free and reduced lunch. How we grow, produce, and sell food matter for the environment and the economic health of our community."
With 93 percent of us saying "it's important that all Americans have equal access to fresh fruits and vegetables," that seems like a pretty good start on establishing common ground. Even in a society as polarized as ours seems at this moment, there are things on which we can all agree and out of which to implement change toward a society where people do not want for food.
Healthy food for all as a basic human right, connecting food and health and ensuring that people are paid a living wage all seem like simple common sense.
Until then

Until we as a society develop the moral outrage that leads to the political will to elect representatives who will institute those changes, there are many ways to contribute food, time and money to Food Gatherers:
For example, their largest annual fundraiser is coming up: Grillin' is "a picnic with a purpose!" Sunday, June 10, 3-8 p.m. at the Washtenaw Farm Council Grounds. Delicious food donated by a huge roster of local chefs, gigantic silent auction, and great live music — fun for the whole family.
Purchase tickets online or call: 734-761-2796. Additional ticket sale locations: Zingerman's Deli, Bakehouse or Roadhouse; Saline Picture Frame Co. and Dexter Picture Frame Co.
Food Gatherers accepts drop off donations of any fresh garden produce at the Food Gatherers' warehouse Monday through Friday from 9 a.m.-5 p.m. From July through September, there are extended drop off hours on Wednesday until 7 p.m.
There is also a drop-off site at the English Gardens Store - 155 N. Maple Road, Ann Arbor Monday through Saturday from 9 a.m.-9 p.m. and Sunday 9 a.m.-6 p.m.
Items most needed include: collards, cauliflower, cabbage, cantaloupe, broccoli, carrots, potatoes, Roma tomatoes, peppers, winter squash.
They say: "Donations of any freshly picked fruits, vegetables and herbs are welcome. The fresher the better!"
Kim Bayer is a freelance writer and culinary researcher. Email her at kimbayer at gmail dot com.