Posted on
Tue, Dec 11, 2012 : 2:30 p.m.
Food Gatherers hosts 'Food Stamped' film screening with Slow Food Huron Valley and Whole Foods Market
By Kim Bayer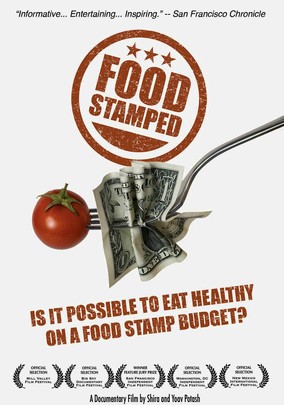 From the Food Stamped website
As if they don't already do enough (for example, distributing 5 million pounds of food to 164 non-profits serving Washtenaw County), Food Gatherers has agreed to provide a location for a film screening of "Food Stamped" this Wednesday evening.
According to the film website: "Food Stamped is a humorous but informative documentary film that follows a couple as they attempt to eat a healthy, well-balanced diet on a food stamp budget. Through their adventures they consult with members of U.S. Congress, food justice organizations, nutrition experts, and people living on food stamps to take a deep look at America's broken food system." Trailer: http://vimeo.com/31749550
Food Stamped is the first film in a "Slow Food Film Series" that Slow Food Huron Valley (of which I am a board member) and Whole Foods Market will be co-sponsoring over the next few months. This time, we'll be screening Food Stamped in the Food Gatherers warehouse, with snacks provided by Whole Foods Market and a Rap for Food performance featuring local singer/songwriter Chris Good. We'll be sticking around afterward to talk about the issues raised in the film.
Year's end is the season of celebration food and holiday feasts for some, but it's also the season of food insecurity for others. According to Feeding America, the national food bank organization, Michigan's food insecurity rate is 19 percent for adults and 24.8 percent for the children of our nearly 10 million population.
Hunger is just another name for poverty. With 1 out of 5 adults and 1 out of 4 children in Michigan facing hunger at the holidays and year-round, it's obvious that there's too much poverty in Michigan.
Food Gatherers' seeks to combat not just hunger, but the causes of hunger in our community. Through their Food Security Plan, begun in 2009, Food Gatherers had made enormous improvements in the healthfulness of the food they distribute, including "a 70 percent increase in pounds of produce and 92 percent increase in pounds of protein distributed since the Food Security Plan was put in action."
Executive Director Eileen Spring writes, "The quality of the food we serve is just as important as the quantity, and we believe that fresh, nutritious food matters….in fiscal year 2012, 55 percent of our total distribution was fresh vegetables, fruit or protein."
I'm looking to seeing Food Stamped to understand more about how we can combat hunger and the causes of poverty in this country and in our state. I hope everyone who is able will consider volunteering with and giving generously to Food Gatherers. They say, "For every $5 you donate to Food Gatherers, you can help provide 15 meals to adults, seniors and children in need in your community."
The screening of "Food Stamped" will be held at the Food Gatherers Warehouse (1 Carrot Way, Ann Arbor) at 7p.m., on Wednesday, December 12. Admission is $5. Tickets are available at the door. Seating is limited. All proceeds from the event benefit Slow Food Huron Valley and Food Gatherers.
Kim Bayer is a freelance writer and culinary researcher. Email her at kimbayer@gmail.com.