Posted on
Wed, Jun 1, 2011 : 3:29 p.m.
Food prices to double in next 20 years, according to Oxfam report
By Jessica Webster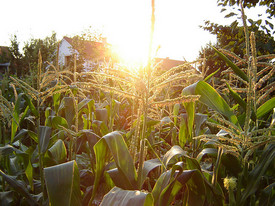 Photo by Flickr user Dodo-Bird.
A study published by
Oxfam
predicts that the prices of food staples will double by the year 2030,
according to The Guardian
.
Climate change, population growth and the re-purposing of food as biofuels are listed as among the variables that will impact the increase in food prices.
"We are sleepwalking towards an age of avoidable crisis," Oxfam's chief executive, Barbara Stocking, said. "One in seven people on the planet go hungry every day despite the fact that the world is capable of feeding everyone. The food system must be overhauled."
This report comes on the heels of a warning from the United Nations last month that increasing food prices could trigger unrest in developing countries in the near future. The World Bank reports that food costs have pushed 44 million people into poverty in the past year.
The full article is available on the Guardian site.