Posted on
Tue, Sep 4, 2012 : 11 a.m.
Food System Economic Partnership gets support from Zingerman's Roadhouse for healthy food in schools
By Kim Bayer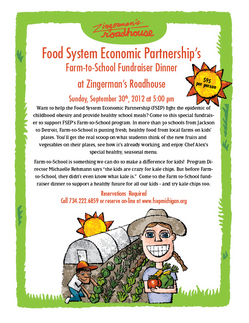 The Food System Economic Partnership and Zingerman's Roadhouse invite your help growing Farm-to-School programs that are putting healthy food on kids' plates
"Why is it cheaper to feed our kids Froot Loops than it is to feed them fruit?" Slow Food President Josh Viertel asked last year. When the unhealthiest food is also the cheapest, it's a conundrum for schools working with a food budget less than $1 per meal per child to serve healthy choices that kids will eat.
A glimmer of hope in southeast Michigan is that more than 30 Farm-to-School projects supported by the Food System Economic Partnership (of which I am a board member), are working to put fresh, healthy food on kids' plates for every meal. Working with schools from Detroit to Jackson, FSEP's view is that "Farm-to-School is teaching the next generation of eaters and buyers what good food is."
Farm-to-School is an extra big win because farmers benefit from working with schools as steady customers, the local economy benefits from schools' big buying power, and most of all, kids benefit by having healthy meals fueling their learning.
With three youngsters of his own, Chef Alex Young of Zingerman's Roadhouse is passionate about serving healthy food in schools. At a special dinner on Sept. 30, benefiting FSEP's Farm-to-School program, Chef Alex is creating a healthy, seasonal and super-tasty menu that can be used in the school lunch program.
Kicking off National Farm-to-School Month in October, the Farm-to-School dinner will feature a student presenting the real scoop on what they think of Farm-to-School (and how they like the fresh fruits and vegetables on their plates).
Farm-to-School Program Director Michaelle Rehmann says she sees success when "the kids are crazy for kale chips, when before Farm-to-School they didn't even know what kale is," and in examples like the little girl in Detroit who stood up and hollered "I LOVE Michigan peaches!" How can Froot Loops compete with that?
Local farms, Seeley Farm and the Tilian Residency Farm, are both donating food for the dinner. Tickets for the Farm-to-School Fundraiser Dinner at the Roadhouse on Sunday, Sept. 30, 2012 are available now.
Kim Bayer is a freelance writer and culinary researcher. Email her at kimbayer at gmail dot com.