Posted on
Fri, May 18, 2012 : 11:30 a.m.
Foods on the Ark of Taste: you've got to eat them to save them
By Kim Bayer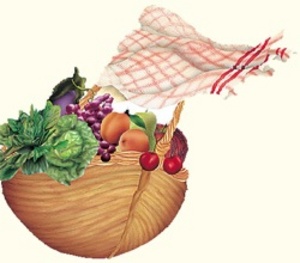 In terms of the known unknowns, to the average consumer it's nothing short of a magical mystery that foodstuffs appear in the depots we call grocery stores. The self-service grocery store is a phenomena less than 100 years old, but we're now trained to simply take the packages home to heat and serve and call it dinner. Who can we ask exactly what's in the food or how the food got there?
I worry for a future where we have no control over our food (and therefore over our health or our environment) because we have less than no knowledge of how food is produced or what the realm of possibility is for how foods can taste.
What's most insidious about the rapid de-skilling that pervades every aspect of our food system is the parallel loss of pleasure. We no longer plant, tend, or harvest our food, and so are not familiar with the hundreds of varieties of lettuce or potatoes or apples that remain to us. I'd argue that foregoing the accomplishment and anticipation of producing at least some of our food also deprives us of an aspect of our humanity that we have come to take for granted or just leave to the "experts" - and that is taste.
The fat, sugar, salt and crunch that are the hallmark of packaged foods are exactly the sensations that the deep, pre-conscious, reptilian parts of our ancient brains were designed to seek. Now that there's no escape from these addictive tastes that were once rare in our diets, we are close to discarding the 10,000 years of agricultural knowledge and taste development that went into creating foods like the late-ripening Esopus Spitzenburg apple - Thomas Jefferson's favorite. Nobody grows it and nobody knows it any more, even though "The flavour is truly aromatic and matches the complexity of the English aromatic apples. The flesh is a buttery dense yellow, and there is a rich sharpness which is often characteristic of high quality dessert apples."
Taste is a kind of knowledge that is built up slowly, intentionally, over time. Just 100 years ago, before supermarkets were ubiquitous, we ate seasonally and knew the taste of the particular foods of our region. Some foods were locally famous for being exceptionally good. The Buckeye Chicken. Gilfeather Turnip. Beaver Dam Pepper. Inchelium Red garlic. Aunt Ruby's German Green tomatoes. Christmas Lima beans. Gravenstein apple. Mulefoot hog.
The peak times to eat specific varieties of foods, from peas to peaches, was once common knowledge. Somehow this knowledge of varietal taste and seasonality is either obsolete (in the mysterious world of packaged food), or left to the "experts" like chefs and other foodies.
But complex flavor is the reason that heirloom tomatoes are sought after - each has specific characteristics that speak to preferences for nuances beyond salty, sweet and fat. Tastes that are floral, fruity, spicy, vegetal, tangy, grassy, or earthy. And every single vegetable has heirloom varieties - those delicious ancestors from which our supermarket food descended.
There are still ways of seeking out tastes beyond what comes in a package. Slow Food focuses on taste as a form of pleasure that is available to everyone, and the Slow Food Ark of Taste is one way to learn about especially delicious foods that have been identified as having historic ties to particular regions.
The mission of the international Ark of Taste project is, in fact, to save endangered foods. Since 1996, more than 800 foods from over 50 countries have been identified for preservation and more than 200 of those are from the U.S. Curiously, the tagline for this effort is "we've got to eat them to save them." Because if we don't eat these foods, we won't know them or work to protect them.
The Local Harvest website lists growers of Ark of Taste foods, but perhaps the best way to eat these foods is to grow them yourself. Seed Savers Exchange is an excellent source of Ark seeds.
Project Grow Gardens offers dozens of varieties of tomatoes, peppers, and basils at its annual plant sale, including Aunt Ruby's German Green and Golden Queen tomatoes - two of my all-time favorites. Frog Holler Organic Farm also offers sturdy starts of varieties like Cherokee Purple, and Amish Paste. At the farmers' market, Ark of Taste varieties are not always labeled. But I know that Tantre Farm has been growing Christmas Lima beans, the Dyer Family Organic Farm has Inchelium Red garlic, Brines Farm grows Sibley squash, and later in the summer Wilson's Organic Tomatoes will have at least 80 varieties that will include many from the Ark of Taste.
Another way to try Ark foods is by attending an Ark of Taste dinner. Last year, Angela Madaras worked with the chefs at Terry B's and others to organize an Ark of Taste "Dinner in the Barn for Preservation and Cultivating Community." Madaras is planning another for sometime in late summer this year. The dinner last year focused on (Slow Food's) Ark of Taste varieties and breeds from our Great Lakes region, including the American Chinchilla Rabbit, Plymouth Rock Chicken, Lake Michigan Whitefish and many heirloom varieties of vegetables.
Many heritage breeds of livestock are among the Ark of Taste foods that we have to eat to save from extinction. For the last 3 years, Chef Brandon Johns at Grange Kitchen and Bar has also hosted an annual Ark of Taste dinner, focusing on "promoting the farmers that are raising these obscure or hard to find animals, like Back Forty Acres, or Steinhauser Farms."
Grange Kitchen and Bar's next Ark of Taste dinner has been (re)scheduled for May 23rd. The menu includes: American rabbit boudin; House smoked whitefish pate, Bourbon Red turkey galantine, Chile rubbed bison, and Mulefoot "Ham in Hay." The Mulefoot hog for this special dish, which is cooked in and infused with flavor from a bed of hay, is coming from Steinhauser Farms.
Brandon Johns says "the Mulefoot pig is one of my favorites. It's just got a sweet delicious flavor. It's got a good amount of fat, but it's a good balance of what you like in all the good pig things."
Chef Johns says that Dave Steinhauser got his Mulefoot hogs from Marc Sponsler at Parmanian Acres near Jackson after Sponsler started raising breeding stock of heritage hogs in an effort to increase their numbers.
Johns notes "A dinner like this brings awareness to the fact of knowing what you eat. When I first did this 3 years ago, they said there were only 200 Mulefoots in the country. Now it's over 800. The Ark of Taste helps to publicize the fact that we need to eat lots of diverse foods or we won't have them again. That why we like to do it."
Is there a good reason for more farmers to grow these special foods? Johns says definitively "Yes, there is a big opportunity. Richard (Andres) is doing the heirloom beans, with Christmas Limas and others. And the tomato guys (Wilson's, Frog Holler) have so many heirloom tomatoes. Aunt Ruby's German Green is my favorite tomato. I try to grow them every year. They're good, and not like the other green tomatoes that kind of have that sour acidy taste. These are just sweet and delicious. Seeley Farm is growing these speckled romaine lettuces I used last year. A lot of people are interested in this - but I always think too late about asking the farmers grow something special for me."
It may be late for Johns to get his menus in synch with local farm planting schedules, but it's not too late for a home gardener to plant some Ark of Taste foods. Attending an Ark of Taste dinner or looking for Ark foods at the farmers' market are both ways to take back the pleasure of taste and learn why it's worthwhile to "eat them to save them."