Posted on
Mon, Jan 9, 2012 : 2 p.m.
French toast waffles with apricot syrup lets the flavor of the sweet-tart fruit shine
By Mary Bilyeu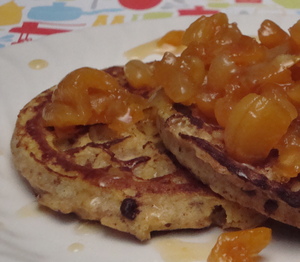 Mary Bilyeu, Contributor
It's
National Apricot Day
, a time to celebrate the vibrant, sweet-tart fruit in all its glory.
Rather than making jam or dipping dried apricots in dark chocolate — both preparations that I adore, I might add — I thought I would make a full breakfast in which the gorgeous orange fruits could shine.
So I took some whole grain waffles and dipped them into a low-fat batter to make a crisp, golden French toast. Then I simply cooked dried apricots in a bit of water, brown sugar and marmalade to make a syrup featuring lots of luscious fruit. It was a perfect topping for my meal of consummate comfort food, ideal for a cold winter morning.
Waffle French Toast with Apricot Syrup
Syrup:
1/2 cup dried apricots, chopped
2/3 cup water
1 tablespoon brown sugar
2 tablespoons orange marmalade
French Toast:
1 cup Egg Beaters
2 tablespoons fresh orange juice
pinch of cinnamon
4 tablespoons skim milk
4 Eggo Nutri-Grain waffles, lightly toasted
1 tablespoon butter substitute
Place all of the syrup ingredients into a small saucepan; bring to a boil, then lower heat to medium. Cook until most of the liquid has been absorbed but some syrup is still left. Set aside.
Combine the Egg Beaters, orange juice, cinnamon and skim milk in a flat bowl. One by one, dip the waffles into the batter for 15 seconds per side, to soak up batter without becoming too soggy.
Melt the butter substitute in a large skillet over medium-high heat. Add the battered waffles and cook for 2-3 minutes per side until golden brown and crisp.
Place 2 waffles onto a serving plate and top with syrup.
Serves 2.

Mary Bilyeu writes about her adventures in the kitchen - making dinner, celebrating holidays, entering cooking contests ... whatever strikes her fancy. She is also on a mission to find great deals for her Frugal Floozie Friday posts, seeking fabulous food at restaurants on the limited budget of only $5 per person. Feel free to email her with questions or comments or suggestions: yentamary@gmail.com.
You should also visit Mary's blog — Food Floozie — on which she enthuses and effuses over all things food-related.

The phrase "You Should Only Be Happy" (written in Hebrew on the stone pictured in this post) comes from Deuteronomy 16:15 and is a wish for all her readers - when you come to visit here, may you always be happy.