peggy lampman's dinnerfeed
recipe:

Fresh Herb (reduced-fat) Vichyssoise with Shrimp - flavor of this cold soup improves with time

Posted on Fri, Jul 13, 2012 : 4:32 a.m.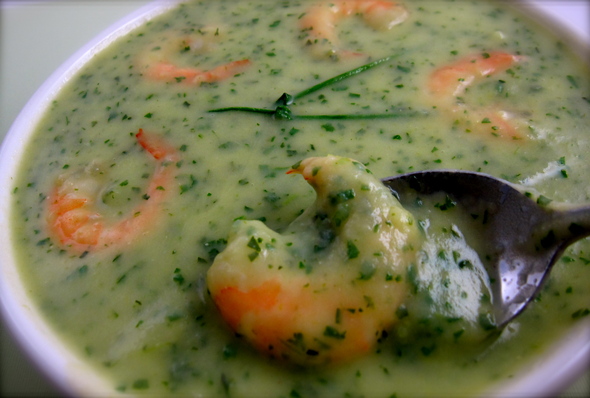 Peggy Lampman | Contributor

To receive my lastest dinnerFeed posts
by email, sign up here.

I'll never tire of vichyssoise, especially in the summer; the smooth silkiness of pureed potatoes and leeks are soul-satisfying.This recipe is a favorite; the ingredients don't call for the traditional heavy cream and butter, which are always marvelous in vichyssoise, but leave me weighted down.

Use any herbs you have on hand, such as those I've listed below. More intense herbs such as rosemary, thyme and sage, should be used in moderation as they would overpower the soup.

The addition of shrimp injects chewy texture and protein, but could certainly be omitted. Vichyssoise tastes best after 24 hours refrigerated, and will keep several days. Add the shrimp, if using, just before serving.

Active Time: 45 minutes
Chill Time: 12-24 hours
Yield: 10-12 cups

Ingredients

2-3 leeks, white and light green parts only, washed thoroughly and thinly sliced (approximately 6 cups)
2 tablespoons extra virgin olive oil
2-3 medium-sized russet potatoes (approx. 1 1/4 pounds), peeled and sliced
4 cups chicken or vegetable stock
4 packed cups fresh herbs such as dill, chives and basil, stems removed and coarsely chopped
1 cup whole milk
White pepper
1 pound medium shrimp, cooked

Instructions

1. Sauté leeks in oil over low heat with a pinch of kosher salt 4-5 minutes, or until tender and wilted.
2. Add stock and potatoes. Bring to a boil, then reduce to a simmer. Simmer about 20 minutes or until potatoes are very tender.
3. In a food processor, purée potatoes, leeks, stock and herbs until creamy. Stir milk into soup. Season to taste with kosher salt and white pepper.
4. Refrigerate 12-24 hours. When ready to eat, stir in shrimp and serve.