Posted on
Wed, Nov 7, 2012 : 11 a.m.
Fresh local turkey options for Thanksgiving 2012
By Kim Bayer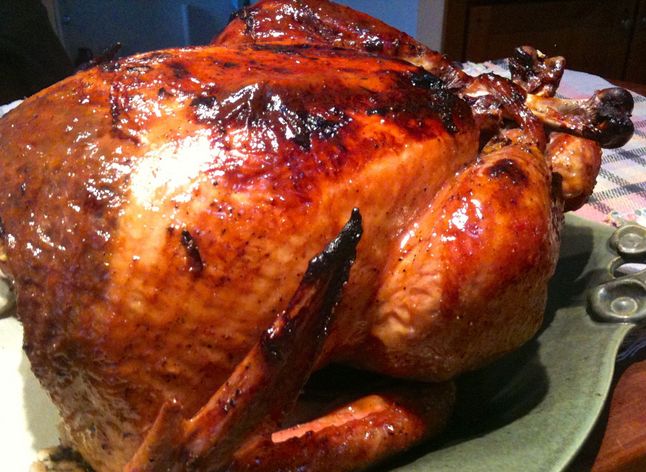 Kim Bayer | AnnArbor.com Contributor
Many of the local grocery stores will be offering Thanksgiving turkeys (including People's Food Co-op, Produce Station, Arbor Farms, etc.), but you can get the freshest bird and support a local farm by buying direct from your farmer. The contrast in taste between a frozen, conventional bird and a fresh, local turkey is stark. If you haven't already tried one you really need to see for yourself. Below are options for a fresh, local turkey from our nearby farms.
Most farms have the regular Broad-breasted Whites that have been pasture raised and grain fed. It looks as though there are very few options for a heritage bird this year.
Heritage birds can be more than twice as expensive, in part because they take longer to get to market weight. And turkeys are notorious for giving up the ghost and also for being carted off by marauding foxes. So remember to call ahead to reserve your bird. Try some Michigan chestnut stuffing too, and Happy Thanksgiving!
Back Forty Acres
Type of turkey: Broad-breasted White (heritage breeds sold out)
Size: 15-25 pounds
Price: $5.25/pounds
Pastured? Yes, in pens.
Pickup date/times: Sunday, Nov. 18 from 10 a.m.-5 p.m.; Monday, Nov. 19, 4-7 p.m.; Tuesday, Nov. 20, 8 a.m.-noon and 4-7 p.m.; Wednesday, Nov. 21, 4-7 p.m.
Phone: 517-522-6976, 734-649-1078
Order online: http://backfortyacres.com/Turkey.html
Email: stephanie@backfortyacres.com
Location: 16477 Heim Road, Chelsea

Dawn Farm
Type of turkey: Broad-breasted White
Size: 15-25 pounds
Price: $3/lb.
Pastured? Cage free, have a coop where they are together with fenced yard area to roam.
Pickup: Nov. 21
Phone: 734-485-8725, call, give name, phone number and size turkey you would like. Pay at pickup.
Email: N/A
Location: 6633 Stony Creek Road, Ypsilanti

Ernst Farm
Type of turkey: Broad-breasted White
Size: 16-25 pounds
Price: $3.50/lb.
Pastured? Yes, in pens. Fed grain.
Pickup date: Pick up at Ann Arbor Farmers Market on Wednesday before Thanksgiving. Or at farm after Monday night.
Phone: 734-662-8085 (call, give name, phone number and size wanted.). Or sign up at the Ernst stall on Saturdays at the Ann Arbor Farmers Market.
Order online: N/A
Location: 9440 Spies Road, Ann Arbor
"They are hormone, antibiotic free, outside on grass. We try to treat them humanely. Fresh, not frozen."

Fletcher Farm
Type of turkey: Broad-breasted White
Size: 20 pounds and up, some 17 or 18 pounds.
Robert Fletcher says "For fresh turkeys it's hard to get a small turkey. Mine are sold fresh, not frozen. No pesticides or growth hormones. Organically fed. Free range.
Price: $3.50/lb.
Pastured? Organically fed, free range, no hormones.
Pickup: Monday, Tuesday, Wednesday, and Thursday before Thanksgiving, from 9 a.m.-9 p.m. Call before coming out.
Phone: 734-663-8649
Email: cefletch@umich.edu
Location: 1331 S. Zeeb Road, Ann Arbor
Fletcher Farm also has ducks and geese but would like people to call for these two weeks in advance to have time to process them. Will have them for Christmas too. Have year round — just need advance notice.
Ducks (Pekin) - $4.99/lb.
Geese (African, and another type) - $5.99/lb.

Firesign Family Farm
Owner Ruth Ehman raises Broad-breasted Bronze turkeys, which customers order in the spring. She says, "I usually have a few unspoken for which will be assigned at butcher time (Nov. 16) to a wait list that already has several people on it. Turkeys are notorious for just up and dying, so I don't commit to the exact number of poults, I buy in the spring…My turkeys are pastured, naturally raised and $5.50/lb. They average 23 lbs."
Phone: 734-449-0247
Location: Firesign Family Farm in Webster Township

John Harnois
Type of turkey: Narragansett (a few) 5-14 pounds for $11/lb. and Broad breasted White (many) 13-23 lbs. for $5.00/lb.
Size: 5-23 pounds
Price per pound: $11 (for heritage breed) and $5 (for Broad-breasted white)
Pastured? Free range, local feed (from Adrian)
Pickup date: Friday Nov. 16, before Thanksgiving. Delivered fresh.
Phone: 734-645-0300, call to sign up (with name and phone number). Or, sign up at the Ann Arbor Farmers' Market Saturday and Wednesday.
Location: 9260 Scully Road, Whitmore Lake
John says "They're really good. We try to take good care of them, protect them from varmints and give them everything they need. We love our birds."

Kim Bayer is a freelance writer and culinary researcher. Email her at kimbayer at gmail dot com.