Posted on
Fri, Jun 22, 2012 : 3:18 p.m.
Fresh Mozzarella, Tomato and Pesto Sandwich - a classic flavor combination
By Peggy Lampman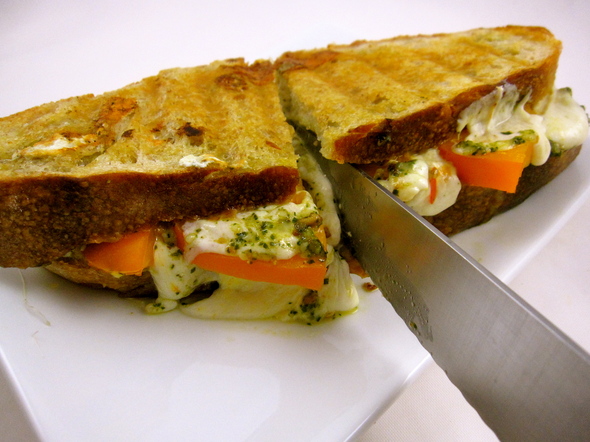 Peggy Lampman | Contributor

To receive my lastest dinnerFeed posts
by email, sign up here.
Ann Arbor may be known for the University of Michigan, but our town is also known for artisan foods. One such example is fresh mozzarella. Zingerman's — of course — comes to mind, and I just discovered Produce Station makes their own as well. Just outside city limits, S. Serra makes an assortment of mozzarella's sold at local groceries, and Tecumseh's Boulevard Market makes a delightful mozzarella, one of many hand-crafted cheeses the store sells in their charming market.
This plethora of fresh, creamy mozzarella begs to be combined with flavors of basil and juicy tomato, Caprese Salads are a favorite meal when it's too hot to grill.
Here's another way to enjoy this inimitable flavor combination.
Active Time: 10 minutes (if pesto is already prepared)
Grill Time: 15-20 minutes
Number of servings: 1 large sandwich
Ingredients
2 large pieces artisan bread, center cut (approx. 8 inches long by 3 inches wide)
2 tablespoons prepared pesto
4 slices from a fresh mozzarella round, cut, if necessary, to fit bread
1 tomato, slice and cut pieces to fit bread
Instructions
1. Spread 1 tablespoon pesto on each side of bread.
2. Evenly divide cheese over pesto on both sides of bread. Arrange cheese slice over both sides of bread. Place tomato slices on top of one piece of bread. Put bread together to made a sandwich.
3. In a heated oiled or buttered skillet, panini press or George Forman grill, grill sandwich until cheese is melted and bread is lightly toasted. (I grilled my sandwich on a Forman at 375 degrees about 15-20 minutes.)