Posted on
Thu, Aug 12, 2010 : 5 p.m.
Friday afternoons at the Washtenaw Farmers Market: Supporting local farmers and merchants, too
By Mary Bilyeu

I love farmers markets, and I know I'm not alone! I've become a regular at the
Westside Farmers' Market
on Thursday afternoons, because the
Ann Arbor Farmers Market
is too oppressively crowded by the time I drag my tuckus there late on Saturday mornings, and I work on Wednesdays so I can't get there in time before it closes at 3 p.m.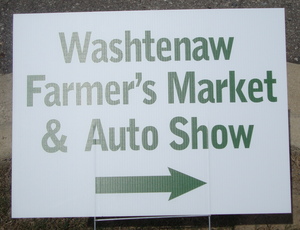 So I was thrilled to read recently (though I can't remember where it was) that there is a new-to-me farmers market at the Arlington Square shopping center on Friday afternoons ... who knew??? I sure didn't! But everyone should know, so I'm sharing the news.
I had read that the purpose for starting the market was to draw business to a shopping strip set back from the road; with an enticement like fresh local vegetables, customers might very well find the farm vendors and then also discover new stores that they hadn't seen as they drove past the mall in the chaos of traffic that perpetually exists at Washtenaw and Huron Parkway/Platt Road. I drive down Washtenaw every Friday afternoon after work, but I always turn left onto Huron Parkway and never continue down the road. So I had been tantalizingly close ever since the market opened in June, but I hadn't yet seen it or known that it existed.
So I made a mission of finding it this past week, and I'm glad to say that it was easy to locate - there were lots of white signs announcing the market and an evening car show. I turned into the large parking lot and was ready to start my shopping!
Since the market is just starting up this year, it is very small still - there were only four vendors. One had ceramic dishes, another had a wide selection of baked goods, and two featured beautiful vegetables. I unfortunately didn't need any plates (I already have more plates, cups, saucers and whatnot than I have room to store), but I decided to support the food vendors by making a purchase at each one. And I was amply rewarded for my effort.
I started with the baked goods, homemade by a lovely woman named Maggie, since I have an infamous sweet tooth. Loaf cakes, cookies, personal-sized pies. Banana, carrot, chocolate, frosted and plain. Oh, the choices! I wanted one of everything. I settled upon a frosted carrot loaf cake (this variety came in an assortment of shapes and sizes) and a double chocolate cake, both of which were dense, moist and luscious. This was only Maggie's second week at the market, and she and her family were very enthusiastic about its prospects.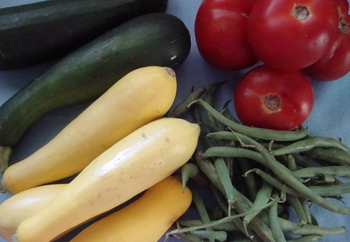 I then moved to the larger of the two vegetable vendors, and was warmly greeted by a young man who was manning the counter while an older couple worked in the background. It was difficult to choose among the wide variety of beautiful offerings, from produce to honey. But I'd been planning to make ratatouille and needed tomatoes (since the ones in my backyard are still green and rock hard), so I settled upon some beautiful deep red ones and a large container of green beans. The very friendly young man introduced himself to me as Sam Hicks, and explained that everything being sold at the table was locally produced by an assortment of farmers, rather than being from the family's own site. I was happy to be able to essentially benefit from one-stop shopping and to be able to support multiple farmers at once.
Finally, I got the zucchini and yellow squash that I needed for my dish from a man named George whose farm is nearby in Willis. He tried to persuade me that I should buy a box of multi-colored small peppers, but I explained that my son doesn't like spicy food so they wouldn't be used at my house. "They're only mild-hot." Oh, a valiant effort! But Jeremy's palate is very sensitive, so buying the peppers would have been a waste. But I admired George's spirit!
In all honesty, the narrow parking lot at Arlington Square is not an ideal location for such a venture as there is virtually no distance from the area where shoppers' cars rest. Ideally there would be a bit more separation, with the vendors blocked off from the parking section or located on a sidewalk. But the location is exceptionally easy to find with excellent signage, and the notion of being able to shop for produce and baked goods as well as supporting local merchants is a HUGE enticement. When I go back again tomorrow, I will have to allow myself more time for perusing all the wonderful offerings!
It is my understanding that more vendors are wholeheartedly welcomed and encouraged, as this project benefits so many people if it can grow and become a destination that people seek out and shop at regularly. There is an application available for vendors who are interested in participating in the market, and the contact information is as follows:
James Kimble 3368 Washtenaw Ave Ann Arbor, MI 48104 (734) 369-3012 JKimble@BoersmaTravel.com
Please join me at our newest farmers market tomorrow afternoon, and on subsequent Fridays through October! And don't forget to shop at the stores located nearby, too. A little love for all our local merchants is always appreciated!

Mary Bilyeu has won or placed in more than 60 cooking contests and writes about her adventures in the kitchen. The phrase "You Should Only Be Happy" (written in Hebrew on the stone pictured next to the blog's title) comes from Deuteronomy 16:15 and is a wish for all her readers as they cook along with her ... may you always be happy here. Check out her blog -- Food Floozie -- in which she cooks, reviews restaurants, and generally enthuses and effuses over all things food-related. Or send an email to yentamary@gmail.com.