Posted on
Fri, Aug 10, 2012 : 4:05 a.m.
Fried Green Tomatoes are tasty with or without Tomato-Corn Relish
By Peggy Lampman
Peggy Lampman | Contributor

To receive my lastest dinnerFeed posts
by email, sign up here.
Green tomatoes are my primary reason for growing tomatoes — I can pluck them from the vine when they are that bright shade of kelly green, just before rosy shades begin to penetrate the skin.
I developed this relish (minus the corn) last year for a Grilled Whitefish recipe. it was marvelous, but optional, as most blue-blooded Southerners I know prefer their tomatoes simply seasoned with salt and pepper; a seasoned cast iron skillet is highly recommended.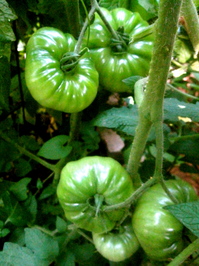 lampman, green tomatoes on the vine
Yield: 4 servings
Time: (if making relish): 40 minutes, if making a relish
Ingredients:
4 green tomatoes, cut into 1/2-inch slices (discard ends)
1/4 cup canola oil (or bacon drippings), plus more if needed
1 large egg, beaten
2/3 cup corn meal
1/3 cup white flour
1 recipe for relish (optional; see below)
Instructions:
1. Liberally season tomato slices with kosher salt and freshly ground pepper
In a large cast iron or non-stick skillet, heat oil to medium-hot heat. Combine corn meal and flour. Dip the tomato slices in egg then dredge in the corn meal mixture.
2. Fry the tomato slices in oil until golden brown, approximately 4-5 minutes on each side. Add more oil to pan if needed. If the oil becomes too hot, it will smoke and the tomatoes may burn.
3. Drain the tomatoes on paper towels, top with Tomato-Corn Relish and serve.
Tomato-Corn Relish
1 tomato, seeds removed and cut into 1/4-inch dice
1 tablespoon white balsamic vinegar
1 tablespoon diced red onion
3-4 tablespoons snipped fresh chives and chopped fresh dill
1 1/2 tablespoons capers plus 2 tablespoons caper liquid from bottle
1 ear of corn, boiled, kernels removed
Combine above ingredients.
Peggy Lampman is a real-time food writer and photographer posting daily feeds on her website and in the Food & Grocery section of Annarbor.com. You may also e-mail her at peggy@dinnerfeed.com.